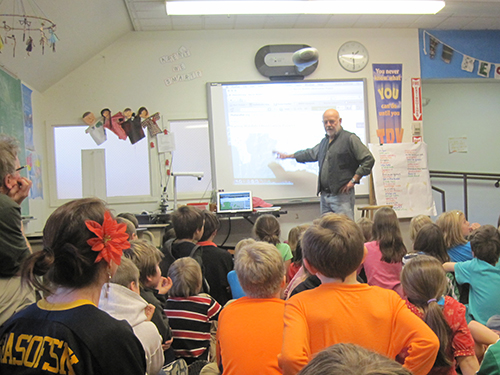 "Who here has seen an otter?" Warren Conservation Committee member Jito Coleman asked third- and fourth-graders at Warren Elementary School and almost everyone raised their hand.
On Friday, November 15, Coleman and fellow committee member Jim Edgcomb visited the school to announce the launch of a townwide wildlife study using the crowdsourcing website, iNaturalist.org.
Now, Warren residents or visitors can go online and record what animals they've spotted out their car or kitchen window and their records will be entered into a larger database for the town. "Hopefully, with the help of all our neighbors, we ought to be able to learn more about our animals by simply sharing what we have seen," Coleman said.
The committee will use the information from the website to create a "wildlife atlas" for Warren to better understand the concentration, corridors and movements of wild animals so that they can better preserve their habitats.
"We'd like to protect the animals, but we can't protect them if we don't know where they are," Coleman told students. Once created, the atlas can inform decisions regarding proposed developments or conservation easements in town.
The conservation committee is undertaking the wildlife study in conjunction with third- and fourth- graders at Warren Elementary School as a way to teach students about wildlife and generate interest in the project. Last Friday, Coleman taught students how to create an account on iNaturalist.org and record what animals they've seen within the past year.
The wildlife study will only work if a lot of people participate, Coleman explained to the students, "and we thought if we got you guys excited [about it], maybe you'd get your families excited," he said. And the students were definitely excited.
"I saw a huge herd of deer up by my house," one said.
"On Sugarbush I saw a big bull moose," another added. And the list went on.
Most people are likely to see animals on or nearby roads, Coleman explained, which will help them pinpoint the location of the sighting when they log on to iNaturalist. The study will include only visual sightings of the animals themselves—not of their scat or tracks.
"At this point, we don't know anything really" about wildlife in Warren, Coleman said.
"It will be interesting to see how this evolves," Edgcomb said.
{loadnavigation}