For more than 38 years, Clear Water Filtration has been offering Vermont, northeastern NY and western NH home and business owners the peace of mind of knowing their drinking water is clean and safe. Clear Water Filtration, Waitsfield, offers comprehensive water testing and treatment systems that include Softening, Filtration, Disinfection and Point-Of-Use Drinking Water Systems.
The company was founded in 1980 by Jim Parker who parlayed his experience with manufacturing and knowledge of mechanics into Clear Water Filtration. Jim started Vacutherm (a manufacturing company) at the Sugarbush Warren Airport. The manufacturing process required water, however the water at the airport had high levels of iron and calcium. Jim found a water treatment system that would resolve these issues. Word quickly spread that Jim could improve iron staining and from there, one filter led to the next and the next. Clear Water Filtration has grown from 1 service vehicle to 6. In April of 2018 the company moved from Jim Parker's hangar at the airport to Mad River Park in Waitsfield.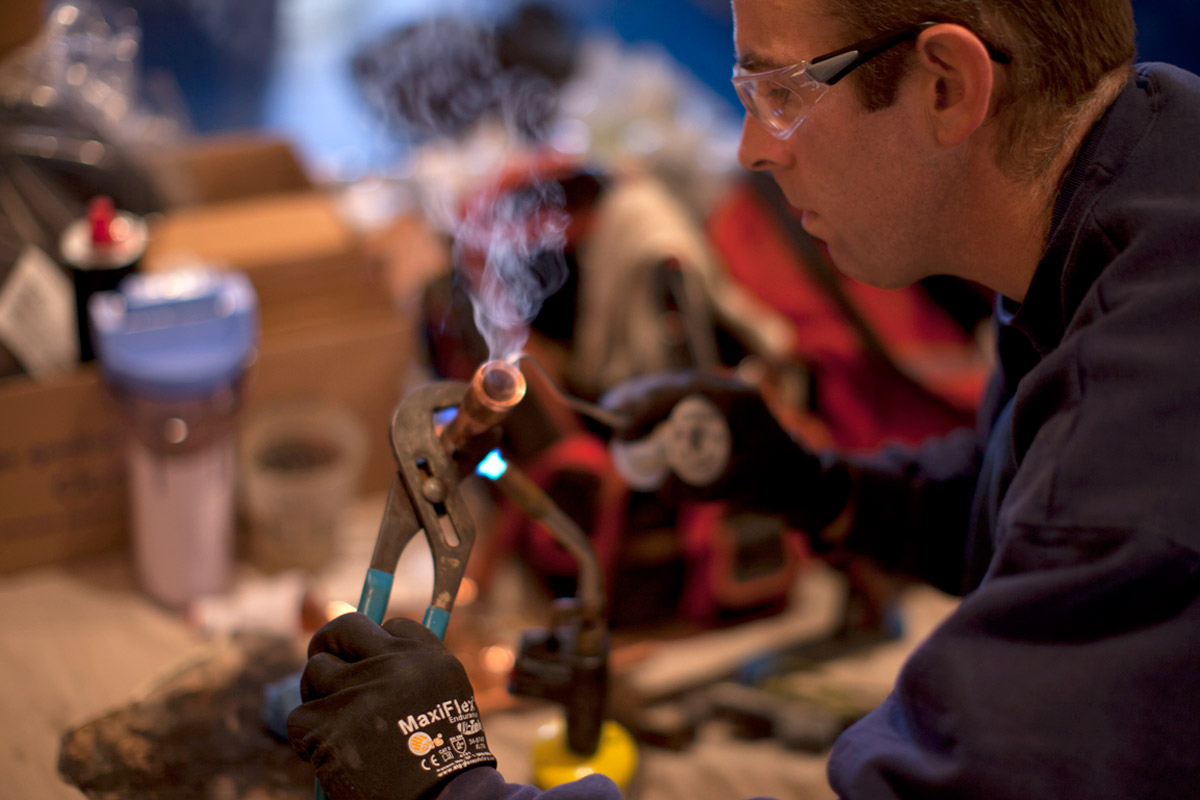 Parker siblings Jen and Steve (brother and sister) moved home after college, got married and started families while joining the family business as sales people, technicians, water operators and administrative support. Their knowledge grew as did their love for small business. In 2016, Jen and Steve were handed the baton and became the new owners of Clear Water Filtration.
Jen said she and her sibling came back to The Valley to buy the business from their father because "we believe there is more great work to be done with our small business. This is an interesting field to be in. Unfortunately, water quality continues to decline, water sources are becoming scarcer and people are becoming more aware of the contaminants getting into our aquifers and water systems."
"I'm passionate about the challenge of water treatment. There is always something new to learn. As much as we wish it were a perfect science, there is always a new challenge and a new way of doing things," Steve said.
"We strive to put science at the forefront of our messaging and prioritize continuing education for our staff. We believe Clear Water Filtration is the best resource locally and beyond for water treatment processes as we are trusted by 25 breweries including Lawson's Finest, Switchback, and Hill Farmstead, as well as Cabot Creamery, UVM Medical Centers and Gifford Hospitals," Jen added.
Today the business employees 10 local people, providing challenging and rewarding jobs with benefits. The company believes in giving back to its own community and the larger community by supporting many local organizations, as well as international efforts in water quality. Clear Water partners with Pure Water for the World, a non-profit dedicated to providing safe drinking water and proper sanitation to rural and underserved communities in Haiti and Honduras. Jen, vice-president of Pure Water for the World, has dedicated many years to the organization having traveled to Haiti 4 times and Honduras once with Steve to install water filters and teach proper methods of safe sanitation.
"It has been incredibly rewarding work and a great way to give deeper meaning to our work," she said.
Jen handles Public Water System Management and Office management while her brother Steve handles Residential and Commercial Sales. They want their community to know they offer free water testing for folks and also offer other types of testing.
802.496.5544 • 802.496.5544
instagram.com/clear_water_filtration/