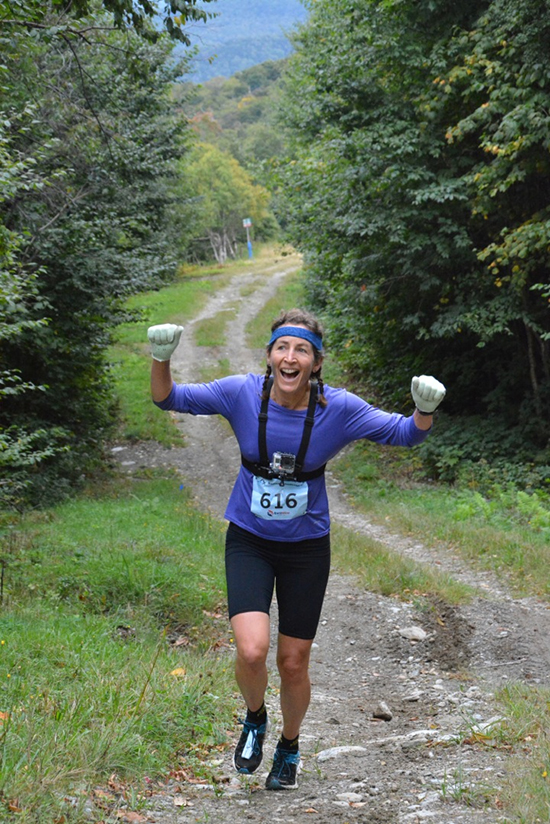 Sunday River's O2X Summit Challenge event marked the halfway point of the series, as well as the emergence of a heavy favorite in the women's points race, with Audrey Huffman, Waitsfield, scoring back-to-back victories in the competitive Double Diamond field.
Huffman was again fastest woman of O2X, following up her victory at Sugarbush with another first-place finish on the grueling Double Diamond course at Sunday River. Huffman's winning time was 1 hour, 16 minutes, 35 seconds with a per-mile pace of 12:49. The back-to-back Double Diamond victories give Huffman a virtually unassailable lead in the 2014 O2X Northeast Point Series. Women's and men's points winners each will be awarded a cash prize of $1,000 following the series' final event.
Racers accumulate points for any top-20 finish on either course at an O2X Summit Challenge event. Single Diamond course winners receive 100 points, with points scaling down evenly to five points for 20th place. Double Diamond course winners earn 200 points, scaling down evenly to 10 points for 20th place.
The third installment of the O2X Summit Challenge Series takes place at Loon Mountain in Lincoln, New Hampshire, on October 18 and will feature both Double Diamond and Single Diamond courses. The following weekend wraps up the series with a Single Diamond race at Windham Mountain, in Windham, New York, on Saturday, October 25.
Taking trail running off the trail and adding natural challenges, a summit finish and a festival atmosphere, O2X Summit Challenge (www.O2X.com) courses are tailored to runners, weekend hikers and nature lovers across a range of fitness levels. The events will also include a first-of-a-kind "remediation commitment" from race organizers to leave each venue better than they found it. O2X is a member of 1% for the Planet (www.onepercentfortheplanet.org), EPA Wastewise (www.EPA.gov/wastewise), and Leave No Trace (www.lnt.org). The inaugural series includes Sugarbush, VT (September 13, 2014), Sunday River, Maine (September 27, 2014), Loon Mountain, NH (October 18, 2014) and Windham, NY (October 25, 2014). For more information, please visit O2X.com or go to facebook.com/O2Xchallenges.
{loadnavigation}