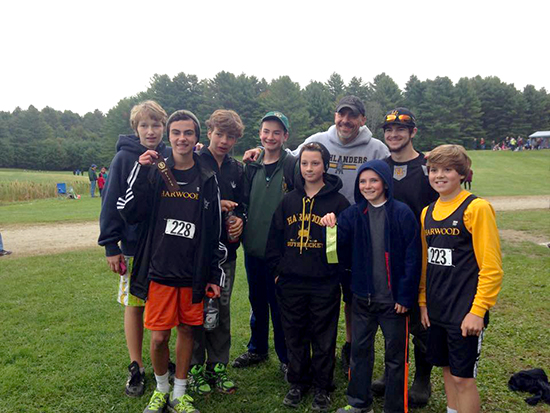 On Saturday, September 20, the runners of Harwood cross-country stormed onto the campus of U-32 and left desolation in their wake. Harwood runners won four of the six team races and placed second in one of them. Harwood won the middle school boys' race, JV girls', varsity boys' and varsity girls' races.
Individually, Harwood was also outstanding. Madeline Strasser got the team spirit rolling with a courageous effort. "Mad Dog" took command of the race and charged the entire way with the cheers of her teammates helping her stellar performance. She was nipped at the finish line by U-32 runner and Nordic ski foe Eliza Merrylees.
"I was so proud of Madeline today, to show the courage and maturity to take the pace out. This was a special thing to watch. She has evolved into a solid runner," said coach John Kerrigan.
Strasser's efforts were followed by Aenea Mead (3), Nicole Cutler (6), Grace Woodruff (10). The JV girls nipped the girls from U-32.
The varsity girls had solid efforts from Annneka Williams (3), freshman, Erin Magill (4), Charlotte Boyden (8) and the remaining of the fab four freshmen: Jordy Kulis (12), Phoebe Sweet (13), Isabel Jamieson (15). Sophomore Lily Clark had the best race of her short career finishing an impressive 18th in the 88-runner field. Varsity girls beat favorite U-32 on their home course.
Daniel Bevacqui and Tristan Touchette got things going for the Harwood JV boys. Halfway through the race they led the 93-runner field. A wrong turn set them both back. Daniel was able to recover his lead to win the race. Tristan had to settle for sixth. Harwood boys displayed amazing depth placing four runners in the top eight: Lucas Boyden, sixth, and Acme Wasi eighth. It was not enough, however, to hold off a tough Middlebury team. Harwood lost to Middlebury by three points but captured second in the 10-team field.
The varsity boys' race was a thriller. Harwood's lead runner Sam Nishi has been battling illness all week.
"He missed a key workout this week and definitely was not 100 percent going into the race," said Kerrigan. Nishi found himself in a pack of four lead runners halfway through the race.
"When I saw him with about 150 meters to go, I thought he would be second at best," said Kerrigan. Nishi surprised and thrilled the large crowd with a blazing kick to overtake Sam Brunnette of North Country at the wire. Nishi's efforts were not wasted. His teammates ran to a first place finish.
"Freshman Morgan Baughman had a breakout race. Morgan started the year as our number-eight runner, he moved up to seven and then to number four last week at Burlington. Today he was our number-two runner placing 10th in the 97-runner field," Kerrigan reported.
He was followed by co-captain Jacob Palmerio (12), Anthony Palmerio (15), Colin Fennelly (26), Kyle Dash (28) and Nathan Palmerio (34).
Harwood cross-country competes Saturday, September 27, for the New England Small School Championship in Manchester, New Hampshire. Harwood boys and girls finished second and third, respectively, at the 2013 race.
{loadnavigation}