The Harwood cross-country team was in Belfast, Maine, on Saturday, October 1. The Maine XC Festival of Champions was the biggest meet of the year for the Highlanders with over 1,600 athletes representing 78 teams from New England and the Canadian Maritimes. The weather was cool, the ground was dry and the 5K (3.1-mile) course has few hills. "I think we can expect some fast times today," said head coach John Kerrigan before the races began. "This is always the most exciting meet of the year for our team and with these conditions we should see some PRs (personal records) today. The kids are really amped up for their races. I told them before they got off the bus this morning, 'Put the Vermonters ahead and keep the column close. Start fast and stay fast.'"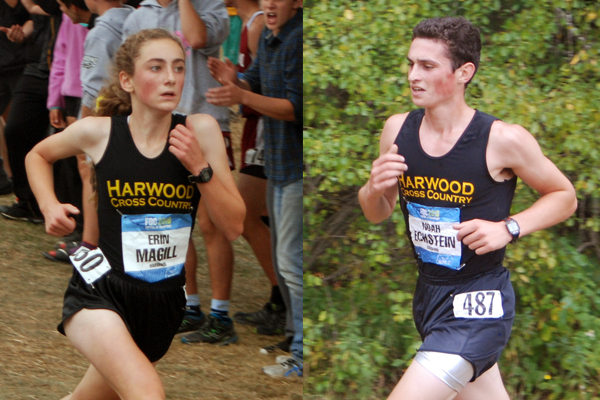 In the girls' seeded race, Erin Magill broke her own school record for a 5K. The race was fast and a pack of seven girls was out in the front of the field of 228 runners, all trying to stay in the group, all pushing each other to go faster. At times the pack was seven abreast, flying along the trail. Magill managed to stay with them until about the 2-mile mark, when she finally dropped back a bit. When the smoke had cleared and the race was over, Erin was seventh and had set the new school record at 19:04.21. Also finishing strong were Anneka Williams (25th, 20:07.96), Phoebe Sweet (68th, 21:00.05), Lily Clark (72nd, 21:04.25) and Katie Ferguson (105th, 21:38.40).
"I was just trying to stay with them as long as I could. I've never been in such a big pack going so fast before," Magill said after the race. "That was crazy fast!"
Assistant coach Tom Strasser added, "Erin ran a spectacular race. With just a little more endurance, she'll be able to keep up with those girls. I think she learned a lot today."
Noah Eckstein gave Harwood their best place of the day in the boys' seeded race. His time of 16:08.70 gave him fourth place out of 321 racers, and also moved him to fourth all-time for Harwood runners. Daniel Bevacqui followed him up in 32nd place at 17:02.31. Also under 18 minutes were Anthony Palmerio (58th, 17:29.94), Colin Fennelly (61st, 17:31.74), and Jesse Bisbee (86th, 17:49.25), every one of them personal records (PR).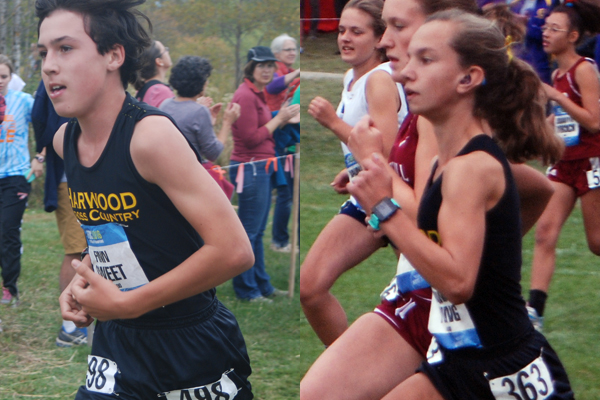 Harwood placed two runners in the top 15 out of 199 in the boys' freshman race. Finn Sweet finished 12th with his own personal record of 18:08.60. Not far behind him in 15th, John Henry Bond-Bardes also had a PR with a time of 18:41.92.
"In the boys' seeded race, we had 11 runners finish in under 19 minutes," coach Kerrigan said. "When you add the two freshmen who also finished under 19, that gives us 13 in under 19 minutes. No other school came close to that."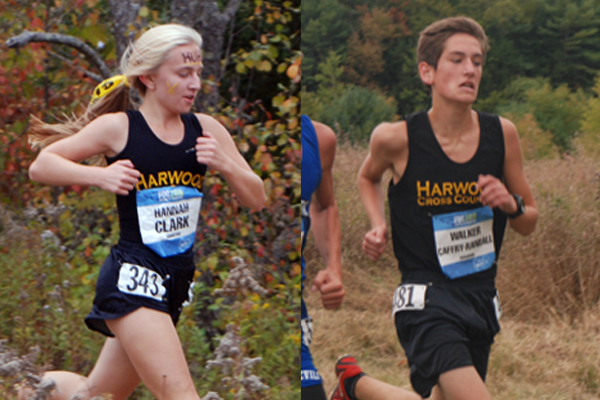 Earlier in the day, Walker Caffry-Randall had the first PR of the day in the first race, the unseeded boys'. Caffry-Randall started in the middle of the pack of 352 boys and gradually worked his way up through the race to finish 12th with a time of 19:16.61. Also under 20 minutes were Thomas Reiskin (42nd, 19:48) and Riley Hebert (45th, 19:50.21), both personal records.
Hannah Clark was the top Harwood runner in the unseeded girls' race. Clark stayed near the front the entire race, keeping her eye on the No. 2 and No. 3 runners and finished fourth in the field of 294 with a personal record time of 22:31.42. Behind Hannah were Nicole Cutler (20th, 23:27.14), Ciara Mead (35th, 24:05.54), Anna Schmeltzer (70th, 24:48.01) and Madeline Strasser (75th, 24:52.03). Mead's and Schmeltzer's times were PRs.
Julianne Young's PR in the freshman girls' race moved her into fourth all-time for Harwood freshmen with 20:44.32, good for an 11th-place finish out of 143 runners. Willa Yonkman's 22:32.13 tied her best time ever, giving her a 23rd-place finish. Freshman girls also under 24 minutes were Alex Pendo (53rd, 23:30.17) and Sydney Kulis (56th, 23:32.84).
All told, 45 of 47 runners had their best times of the season and 35 of those were personal records. Those great times were reflected in the overall team competition, where the Highlander boys finished sixth out of 61 teams, just missing the top five by one point. The girls finished fifth out of 58 teams. "Only one other school (Greeley, Maine) had two teams in the top 10," coach Kerrigan said. "Our combined team is one of the best. This sets us up well for the Harwood Invitational (coming up on October 15), which is the only invitational that combines the boys' and girls' scores."