Girls' Soccer
Harwood's girls' soccer team will have to play a more balanced-style game to account for the loss of their top goal scorer.
Last year, the Harwood girls' soccer team rallied to the state semifinals where they lost 1-0 to Montpelier. This year they will be without top goal scorer and captain Brynne Quirion who had more than 20 goals last year.
All four of the seniors that left last year were strong players, but Quirion and fellow captain Ali Yandow will leave the largest gap.
"I thought the preseason was good. It was full of development, ups and downs just like preseason should be," said head coach Mike Vassuer.
Vassuer said he expects many of the returning starters from last season to step up to fill in the gaps. He said there are a lot of seniors on the team this year and many juniors who will start.
"I don't see anybody that's going to be head and shoulders, scoring 20 goals while everyone else is scoring one or two. We're going to have to have a much more balanced spread out attack than we had last year," he said.
Vassuer said his game plan will be similar going into this season and the team will have to be more efficient moving the ball around.
The team played their first scrimmage on their home pitch on Tuesday, August 29. They lost to Mt. Abe 3-1.
Their first game is Saturday, September 2, against Green Mountain Valley School.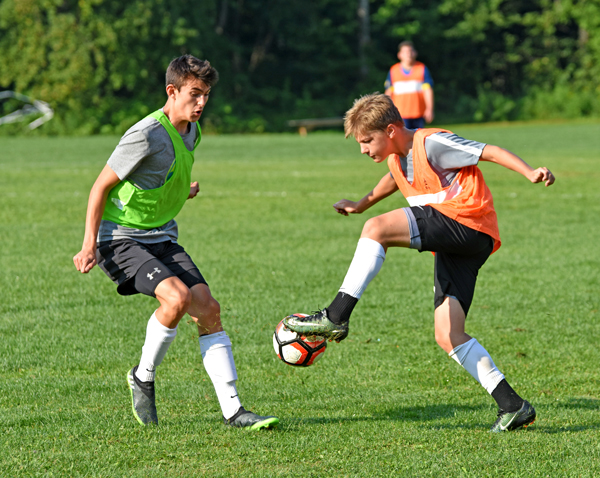 Boys' Soccer
Don Haddox is hoping a few tough scrimmages will ready his boys' soccer team for the fall.
The Harwood boys' soccer team has played three scrimmages, all against Division I opponents. They lost to St. Johnsbury 1-0 and Champlain Valley 1-0 and defeated Rice 3-1. Haddox said he specifically picked challenging teams that the team won't see during the year.
"The last thing I want is to walk through scrimmage. The whole idea is to see what things aren't working for us and the better the competition the more likely that list of things we need to work on gets longer," Haddox said.
Haddox said he would be working tactically on defense. He said the team's backs are "insanely athletic," and in the three scrimmages they only gave up three goals; they just need to refine their system.
They will also work on their composure around the goal and their technical skills. Haddox said the team only completed 41 percent of their passes against Champlain Valley, a number he would like to see around 75 percent.
The team lost a lot of leadership in three four-year varsity players: Jonathan Zacharias, Shiv Seethpalli and Ethan Riddell. Zacharias was a three-year captain of the varsity team, which is unheard of at the high school level, according to Haddox, and Riddell's passing capability will be sorely missed.
"There isn't a replacement for those two," he said.
Haddox is very happy with some incoming players from last year's junior varsity team, which went undefeated. He said Ely Kalkstein and Will Lapoint are juniors that have secured spots with their tenacity in the preseason.
"Those two guys will compete for who gets to the water first," Haddox said.
Now they have nine days to prepare for their opening game at Peoples Academy on September 7.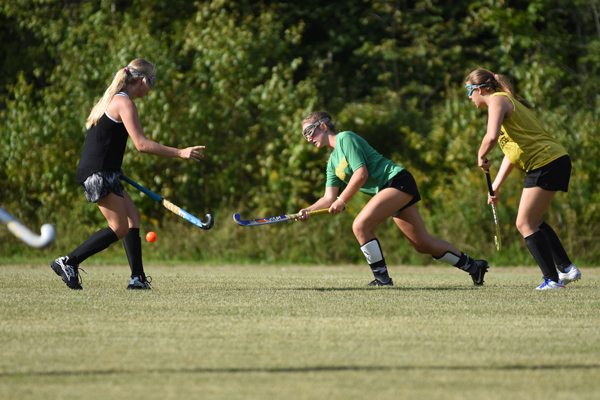 Field Hockey
Heath Haskell is the new field hockey coach at Harwood and he has been excited with how his team has played so far in the preseason.
Haskell said that everyone on the team is invested and comes ready to play and he credits the former coach, Heidi Hill, for instilling such a fierce work ethic.
Some of the older athletes on the team have helped Haskell get acquainted with the strengths and weaknesses of the team.
"We have some really strong players. Abby Burfoot, who is a good senior leader – she plays in the middle of the field and she has great stick skills. And then Alexandra [Jackson], she is going to the person that the ball goes through all the time," Haskell said.
Haskell is implementing a new system that is more oriented toward offense. By putting three forwards in the front and keeping two halfbacks and one fullback, they will be more prone to a counterattack by a quick opponent, but Haskell is hoping the midfield can push anything that comes their way to the outside.
"Give me the chance to put you in these new spots and we'll see what happens," Haskell said to his team.
Haskell also said he will switch things according to each opponent. "You have to gear your team to who you're playing," he said.
Field hockey faces off against Mt. Abe to start the season on Friday, September 1.
Photos: Christopher Keating