The Harwood girls' soccer team defeated Lamoille 2-1 in an intense physical match to move them to 4-1 on the season.
The Harwood Highlanders were able to keep the ball in their attacking side for the majority of the first half, stymieing Lamoille's attempts to clear. Their efforts paid off when senior Camille King netted a free kick from beyond the penalty box in the 15th minute.
"We're trying to press up. The higher you press the less you have to play defense in front of your own goal. It's as simple as that. And we try to press high and it was working pretty well. We've got some pretty quick midfielders and forwards," Harwood head coach Mike Vasseur said.
Harwood played with a one-goal lead until the 21st minute of the second half when senior striker Kate McMann took a cross and powered it through the goalkeeper.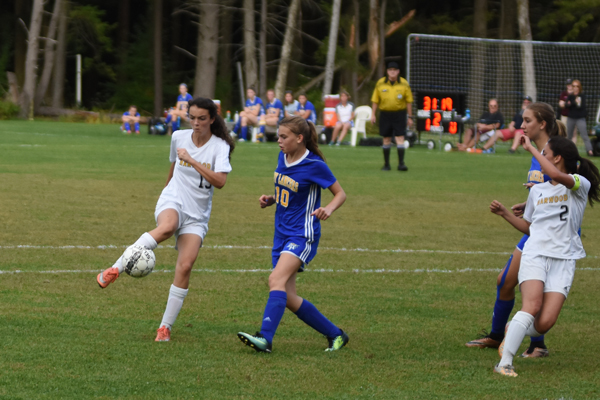 The Highlanders let up one goal late in the second half but came away with the win.
"We played lackluster and then we played great and then we played lackluster and then we played great. We are really having trouble with our consistency of intensity right now," Vasseur said.
Vasseur said he doesn't think his team has put together a full game of high-intensity play yet. "I think there is another gear," he said.
King, Harwood's first goal scorer, paid the price for a win. She was taken out after a collision with a Lamoille defender. The Highlanders' next game is at Peoples Academy on Friday.
"We just didn't sustain that intensity and when we back off on our intensity it allows people to step up and run the game and we just can't have that full speed/not-full speed; we have got to play all out all the time," Vasseur said.