Erin Magill's first-place finish led the Harwood girls' cross-country team to a second-place finish at the NVAC Mountain Division Championships in Montpelier on Saturday, while the Harwood boys finished third.
Magill's time of 19 minutes, 23 seconds had her 11 seconds ahead of Oxbow standout Isabella Giesing. She was followed by Julianne Young (seventh, 20:32), Jordi Kulis (15th, 21:14), Isabel Jamieson (32nd, 23:03) and Hadley Kielich (34th, 23:06). The team finished behind Division I powerhouse St. Johnsbury Academy in the final standings. "Izzy Giesing went out really fast and I thought 'This is going to be a fast race,'" Magill said after. "I stayed with her for 2 kilometers and then I felt her slow down, so I passed her there and stayed ahead. We talked about the race beforehand and were both hoping for personal best times. We didn't quite get it, but it was a fun race. It's always fun to win."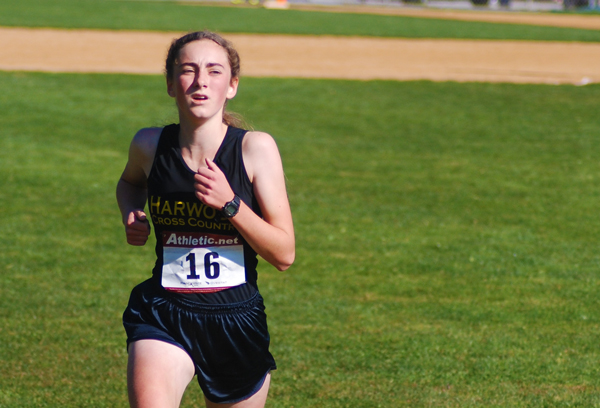 In the girls' JV race, Katie Ferguson pushed to a win with a time of 22 minutes, 54 seconds and Willa Yonkman finished fifth at 23:17. Coach John Kerrigan talked about the girls' team after the race: "Katie and Willa have been running varsity all season, but I moved them to JV today. They really stepped it up to prove that they belong on varsity. Katie had a great race. She ran with some real grit and had the fourth fastest time for the team. Now she knows that she's not our No. 7 runner, but our No. 4. That means she's scoring points.
"We have states next," Kerrigan continued. "At states our senior girls (Magill, Kulis, Ferguson and Jamieson) have to go out and have their best races of the season if we're going to beat Middlebury. This is the first time they've had to go into states as underdogs and it takes a different mentality. They'll have to run through some pain and really push themselves. They can do it. Don't bet against us."
The boys' race was won by fan favorite Riley Fenoff of Danville, but the race was dominated by Harwood rival U-32, with the boys in blue finishing 3-4-5-6-7 to dominate the scoring. Harwood's third-place finish (after St. Johnsbury) was led by Daniel Bevacqui (ninth, 17:14) and Brendan Magill (10th, 17:17), followed by Anthony Palmerio (14th, 17:46), Luke Groom (31st, 18:44), and Seth Beard (38th, 18:59). In the JV race, there were strong showings by Carlton Cummiskey (fifth, 18:51) and Jonas Merchant (eighth, 19:06).
"Riley is the most likable kid in a sport dominated by likable kids," Kerrigan said. "He came up to me after the meet to apologize for missing our invitational, saying that the Harwood course is his favorite in the state and it's made him a better runner. Everybody cheers for him. And it helps that he has no teammates, so his place doesn't count against anybody.
"The boys are coming together as a team after nursing some injuries and are learning how to become better at racing 5K," Kerrigan continued. "Jesse (Bisbee) was out today and Luke stepped right up to take his place. We will be ready to challenge a U-32 squad which may be the best team in the entire state. Harwood has a reputation for peaking at the state meet and always being a threat."
Harwood's next race is the state championships at Thetford Academy on Saturday. The boys' championship race is at 11:30 a.m. and the girls' championship race is at 1 p.m.