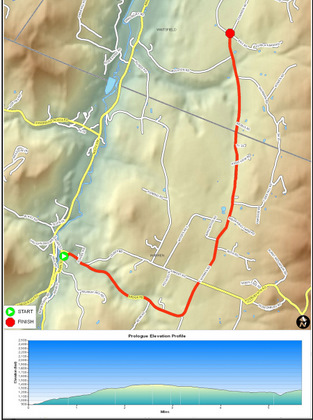 The postal service motto ("neither rain nor snow. . .etc.") and the Broadway dictum ("the show must go on") come to mind – there will be no stopping the 2011 Green Mountain Stage Race (GMSR).
The fury of Mother Nature notwithstanding, more the 800 cyclists and their families will be coming to The Valley this weekend for the 11th edition of the race. Despite considerable course changes enforced by Irene, four days of racing are in store.
"Riders love our race and love coming to this beautiful part of Vermont, and we are doing our best not to disappoint them," said race director Gary Kessler. "We also recognize that the GMSR is an important economic shot in the arm for the area. Despite the inconveniences, we think we can still put on a quality race."
A quick update on the four stages: Friday's planned time trial from Warren village along East Warren Road will go on as planned. Saturday's circuit race has been moved to a course around Huntington and Starksboro on the west side of the Green Mountains. An App Gap finish for Sunday's road race is still planned, although details for the exact route were still being worked out at press time. And Monday's criterium in Burlington will happen as planned.
Kessler stressed that the race is not being put on in disregard of the difficulties many homes and businesses in local communities are currently facing. The race organization will be donating some of its proceeds to area flood victims and will also be encouraging donations from visiting cyclists.
Given how much riders say repeatedly how much they enjoy coming here, contributions could be substantial, he said.
Finally, volunteers are still needed, especially for those with the willingness to make a quick jaunt over the hill to the west of the Greens to help with course marshaling. To help out, please contact Melanie Simon This email address is being protected from spambots. You need JavaScript enabled to view it.
or Peter Oliver at This email address is being protected from spambots. You need JavaScript enabled to view it.
. And for updates on the race status, routes and results go to gmsr.info.
{loadnavigation}