Boys' Hockey
Harwood 2, Burlington 1
Boys' varsity hockey hosted Burlington High School on Wednesday, January 16, at the Ice Center of Washington West in Waterbury.
Harwood would take control of the game early, finding the back of the net in the first period with a goal scored by Jake Green assisted by Ollie Hammond and Tanner Woodard. This would be Green's first career varsity goal.
There was not much action in the second period, as both teams geared up for a busy third.
Harwood scored in the third with a shot by Skylar Platt assisted by Gavin Thomsen and Jake Cantwell. Burlington responded with their lone goal scored by Calder Sky assisted by Colton Poulin.
Harwood goaltender Liam Guyette had 30 saves on the game and Brad Labombard had 35 for Burlington.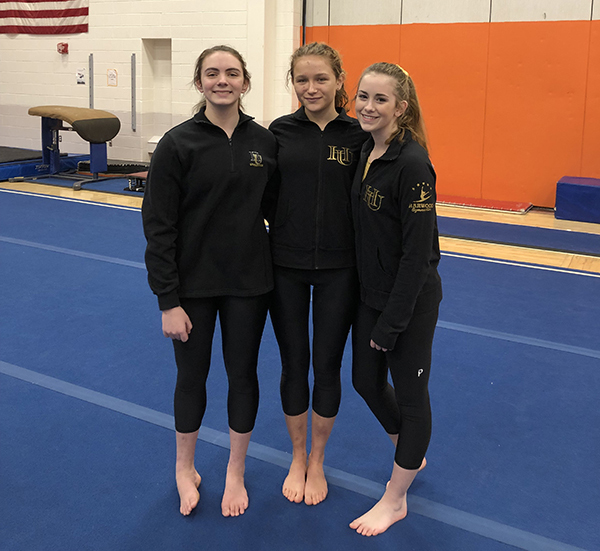 Gymnastics
Harwood gymnastics faced Milton High School on January 11 at Central Vermont Gymnastics in Waterbury.
In vault, Harwood took first and second place. Delana Cheney for Harwood scored 7.9. Lynn Russell for Harwood scored 7.5. Milton placed third with Alexis Drown, 7.25.
On the bars, Milton placed first and third: Milton's Alexis Drown with a 6.6, Harwood's Delana Cheney 6.2, and Kaylee Shaw for Milton with a 6.1.
On beam, Harwood placed first with Delana Cheney scoring an 8.3, with Milton's Meghan Fonclakowski 7.45 and Alexis Drown with 7.4.
On floor, Harwood placed first, Delana Cheney scoring 8.25, Milton's Kayleigh Bluto with 7.7, and a tie for third between both teams – Lynn Russell for Harwood and Meghan Fonclakowski for Milton with 7.6.
All around, Harwood's top scorer was Delana Cheney with 30.65. Milton's was Alexis Drown with 28.05 and Kaylee Shaw with 26.55. Final team score had Milton pulling out with the win 108.15 to Harwood's 57.05,
Middlebury
In a meet against Middlebury on January 19, Harwood had two gymnasts competing. On vault, Harwood'sHa Delana Cheney came in first with 7.85, and in was third Lynn Russell with 7.2.
On beam, Harwood came in first and third again, Delana Cheney scoring 8.45, Middlebury's Lian McGarry scoring 8.3, and Lynn Russell scoring 8.1.
On floor competition, Harwood's Delana Cheney (7.1) came in third after Middlebury's Carly Burger with 7.8 and Julianna Williams with 7.65.
In the all-around competition, Middlebury came in first and second with Lian McGarry's score of 29.3 and Carly Burger with 28.3. Harwood's Lynn Russell scored 28.0.
Girls' basketball
Lake Region 44, Harwood 49
In a close game, the Highlanders would come away with a win against the then-top-seeded Lake Region High School in a home game on January 19.
Lake Region came in as the No. 1 team in the division. Harwood, coming off a win against U-32, did not disappoint fans.
Finishing the first quarter up 15-7, the Highlanders tried to keep their composure and finished the second quarter up 25-23. Into the third both teams scored 10 points with tension running high. The Highlanders were able to outscore Lake Region in the fourth for the win.
Mia Cooper for the Highlanders finished with 18 points, 12 rebounds and three blocked shots. Ashley Proteau finished with seven points.
Head coach Tom Young said that his team after letting down their guard in the third quarter never panicked and were able to keep their composure and play their game. "We're playing some really good basketball right now," said Young.
The girls will play next on Tuesday, January 22, away against Lamoille, and again Thursday, January 24, away against Oxbow.
Wrestling
Harwood wrestling attended the Essex Classic tournament on January 19 and 20 and head coach Casey Moulton said that the event is always full of great competition.
Harwood had two place finishers: Alan Clark wrestled at 145 pounds and placed fifth while Sully O'Hara, weighing in at 170 pounds, placed third.
"From all of the Harwood wrestlers we saw tough wrestling, whistle to whistle. It was great to see the effort they put in a tournament that is so competitive," said Moulton.
Girls' Ice Hockey
Harwood girls' varsity hosted Burlington-Colchester at home on Saturday, January 19, at the Ice Center of Washington West.
The Harwood-Northfield combined team, now 3-6-1, lost 3-0 to the combined Burlington-Colchester team.
Head coach for the team Mike Vasseur said that the team is doing well despite being a little down about the losing streak they are on.
"I am happy with how hard they have played and how we have improved. The teams we are playing are Division I and play well. We have to keep having fun and improving and everything will be fine. We just need to concentrate on our tiles and keep improving," said Vasseur.
The girls will next play away against Stowe on Wednesday, January 23, at 4:15.