JVA boys' basketball
On January 4, the JVA boys' basketball team traveled to Middlebury. They got off to a slow start and the game was tied 12-12 at halftime. However, in the second half Harwood outscored Middlebury 22-10 and won the game 34-22, bringing their season record to 5-1. Geoffrey Kazlow led the scoring with 11 points and Nathaniel Kazlow followed with nine.
On January 6, the JVA boys' basketball team further improved their record to 6-1 after defeating Lamoille. The first half was close, but then Harwood's defense put pressure on Lamoille and wore them down. Eleven players scored, with the top scorers Lane Clark (16), Matt Fischer (14), Nathaniel Kazlow (13) and Geoffrey Kazlow (12). The final score was 72-39.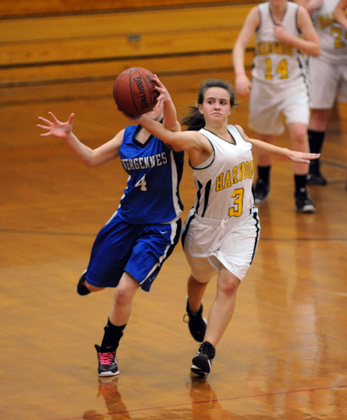 Varsity girls' basketball
The varsity girls' basketball team faced off against Vergennes on January 3. The leaders in the game were Michaela O'Brien with 11 points and 11 rebounds, Jennifer James with 11 points and 4 blocks, and Sabrina Burbank with 8 points. As a team, they played with excellence consistently and kept the ball moving well, which helped them seal the victory 47-34.
The varsity girls' basketball team challenged Oxbow on January 6. The leading scorers were Michaela O'Brien with 14 points and Jennifer James with 6. There were parts of the game where the team played some of their best basketball all season, and they were leading 14-7 at the end of the first quarter. However, Oxbow is an excellent team and took the lead as Harwood made some mistakes that they could not come back from. In the end, Oxbow took the victory 60-33.
Wrestling
The Harwood wrestling team competed at the Otter Valley Invitational in Brandon on January 7. Kyle Streeter, wrestling at 220 pounds, continued his winning streak by winning both of his matches and earning his first-place finish. Kaegan Pearsall took third place in the 182-pound weight class after losing a close match to the eventual champion. Overall, Harwood finished ninth out of the 17 teams competing.
Varsity boys' hockey
The varsity boys' hockey team traveled to Essex on January 4. Essex is home to the number one boys' hockey team in Vermont, and so Harwood had quite the challenge. Sam Boylan and Dave DeFreest played excellent defense and Boylan scored Harwood's first goal. Erik Bertalan scored two more goals with assists from Ryan VanTuinen and Kaile Daley. The team played very well, but Essex took the victory 9-3. Harwood goes on to play Burlington at their rink on January 14.
Girls' hockey
On January 7, the varsity girls' hockey team played against Stowe. They take pride in that they worked hard and played well together as a team. There was great goaltending, incredible defense, and a determined line of forwards who never gave up. Harwood's effort was rewarded with a 1-0 victory.
JVB boys' basketball
The JVB boys' basketball team has played five games this season, against South Burlington, Lyndon Institute, MVU, Williamstown and Lamoille. They are learning offense and playing together for the first time with 10 players. They play well together and work hard from tipoff to the last second. So far, they have a win-loss record of 2-3.
Gymnastics
The Harwood gymnastics team competed most recently against U-32 on January 7. Tyra Izor took first in vault, bars and floor and second on beam, and Haley Aylward and Cecilia Baker both placed in the top three in two events. Overall, Izor took first with a score of 34.9 and Baker took third with 31.26. Due to these leaders and the hard work of everyone on the team, Harwood won the meet 120.75 to 104.7
Nordic
The Nordic team was finally able to compete in their first meet on January 7 at Stowe Mountain Resort. There were over 65 racers from different schools. For varsity boys, Nathanael Kuzio finished 11th, followed by Brennan Degen (19), Geordy Aitken (33) and Will Robinson (41). For varsity girls, Grace Butler finished 10th, followed by India Harvey (36), Sarah Hoyne (38), and Kate Stevens (43). In the JV race, first-time racers Ellie Ramsey and Jacob Palmerio placed 2nd and 10th, respectively. With a record turnout for the team, over 30 skiers, many were beginners, but Coach John Kerrigan said, "We did fairly well considering our team is very young and we were up against more experienced teams."
{loadnavigation}