Mad River Glen hosted the first event of the 2012 Triple Crown series, the Junior Unconventional Terrain competition, on Saturday, January 14.
The Triple Crown Series combines the results of the Unconventional Terrain Competition, the Vertical Challenge and the Mogul Challenge to crown the king and queen of the mountain.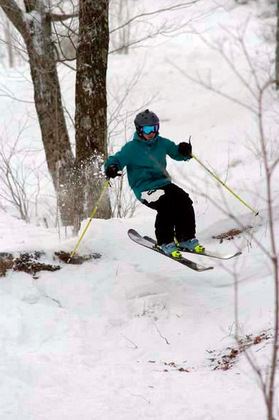 Competitor at the Junior Unconventional Terrain competition. Photo: Jeb Wallace Brodeur
The unconventional terrain contest challenges skiers to ski steeps, cliffs, jumps and rocks, as they plunge down the relentless Lift Line course. Leigh Bradenburg won in the girls' 11 and under category with a score of 55.75. Erin Magill came in second place with 47.75 points, and Abbie Silverstein took third with a score of 45.75.
In the girls' 12 to 15 category, Olivia Cantamessa took first place with 53.25 points, Rachel Liu was in second with 45.75 points and Amelia Slade took third place with 40.5 points. On the boys' side, Ely Kalkstein won in the 11 and under bracket with a score of 65. Turner Barbour was in second place with 64.5 points and Eli Friedman took third place with 63 points.
In the boys 12 to 15 age group, Andreya Zvonar won with 67.5 points, Carson Barbour took second with 65.8 points and Sam McClellan took third with 64.3 points.
To view full event results or register for the remaining Triple Crown series events, visit www.madriverglen.com.
{loadnavigation}