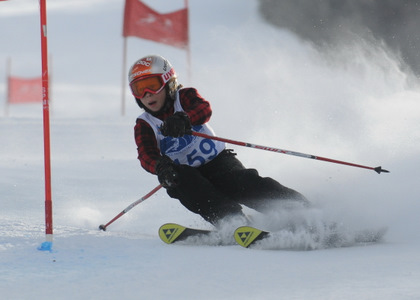 Despite subzero temperatures this past Sunday, January 22, a brave crew of Green Mountain Valley School (GMVS) Ski Club racers headed off to competitions throughout northern Vermont.
The J5s and J6s, ages 6 to 10 years old, competed in their first giant slalom race of the season. The GMVS Ski Club was well represented in both age categories with nearly 60 club kids participating. With some fast times, the J6 girls finished their first run in under one minute with strong GMVS Club finishes among the field of 26 competitors. The J5 girls, bigger, faster and stronger, pulled some fast times and placed well in a field of 36 skiers.
The J6 boys took to the course, skiing with blistering times and a handful of GMVS racers in the top 10 with a cluster finishing close behind in a field of 32 racers. The J5 boys screamed out of the starting gate and sped down the 25-gate course to some personal bests and some group dominance in a field of 39 skiers.
After the first run, all racers and their parents went in for some hot chocolate and some necessary toe warming. The second run went off without a hitch, and everyone was home and warm by the end of a long day.
J4s dual slalom at Cochran's
Closer to the home field, the J4s, ages 11 to 12, competed in a two-run dual slalom at Cochran Ski Area. Despite the large field of racers, 82 girls and 76 boys, the races started on time and went so fast that it was hard to keep track of the bib numbers screaming by coaches' knoll. Approximately 17 club girls and 20 club boys turned in some fast course times. Sixteen boys and girls made it to the afternoon dual-style elimination.
At home
The J3s, ages 13 to 15, stayed on the home hill to do some free skiing, while the J7s did spills and drills with their coaches and stayed warm by huddling together and pausing for hot cocoa and Goldfish.
{loadnavigation}