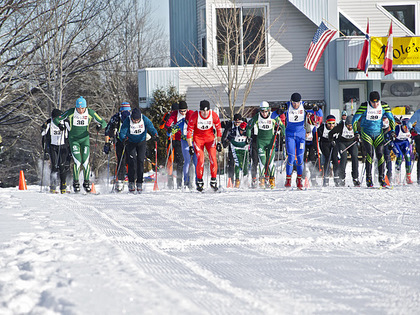 If you want to know what stuff you are made of – in cross country skiing or on the battlefield of life – you need to put yourself to a test against the best. When 44 skate skiers lined up for the annual Valley Cup race on a beautiful Sunday morning with perfect snow conditions at Ole's, all eyes were focused on the tall, red-clad fellow in the middle of the front row. That was Garrott Kuzzy, member of the 2010 U.S. Olympic team and about as good a skier as you'll find on this continent.
Kuzzy was trying to put his name on a trophy already embellished with an array of Olympic names, including Marc Gilbertson, Mike Gallagher and Bob Gray. And, in showing off a long and powerful V2 stride even when going uphill, he succeeded, covering the 9.2-kilometer distance in a staggeringly swift 23 minutes, 46 seconds. For those doing the math at home, that computes to an average speed of almost 15 miles an hour.
Kuzzy's win was certainly not unexpected, but what was surprising was the relative narrowness of his victory. Coming in just 21 seconds behind was Tim Donahue, whose biography hardly suggested that he would be right on the heels of Olympic éclat. A 42-year-old father of a two-month-old, Donahue resides on the upper West Side of New York City. Who was this guy? Where had he found the time and snow to prepare?
A search for his race record on the website of the FIS, the governing body of the sport, produced an unhelpful "no competitor found." Yet there he was, just a handful of seconds behind the red flash from the realm of Olympus.
Thereafter, skiers with local connections were a robust presence in the top 20. Evan Dethier, GMVS assistant Nordic coach, took the final spot on the overall podium with a time of 25:03. Not far back in fifth was GMVSer Hans Halvorsen, Reid Greenberg in eighth (and winner of the 30-39 age group), GMVSer Devlin Shea in ninth, Dan Greenleaf in 10th, Mike Kavanaugh in 16th and Harwood coach Tom Strasser in 18th.
On the women's side, 16-year-old GMVSer Heidi Halvorsen might not be able to match Kuzzy's Olympic cred, but she skied like the Olympian she may well become in a few years. She can look at the trophy and take inspiration from the name of another 2010 Olympian, Caitlin Compton, winner of this race in 1999. Halvorsen's winning time of 28:26 was more than three minutes faster than second-place finisher Alia Johnson, with Emily Miller completing the podium.
And look who was there chasing down those pesky, teenaged podium finishers – the ever-ageless Marilyn Ruseckas, a multiple Valley Cup winner in years past. Here's a fact that Ruseckas may or may not wish to have revealed – add up the ages of the top three finishers and the total falls short of the age of the 50-something wonder woman in fourth. Not far behind Ruseckas, and making a statement for the 40-something crowd, were local stars (and Bill Koch League coaching superstars) Kate Williams and Amy Jamieson.
Junior skiers had the option of competing in the 10k race against adults or against one another in their own 5k race. Forrest Hamilton won the boys' 5k race and Elizabeth Goss won the girls' race, but of particular note was the effort of Noah Eckstein, a BKL up-and-comer. Eckstein laid it on the line in the morning against the older kids in the 5k, then returned a couple of hours later to win a BKL race. He will heretofore be known forever as Noah "Double Trouble" Eckstein.
Once the morning races had been completed, 20 athletes in the local BKL program (open to kids 6 to 13 years old) competed on courses of varying lengths. Simply said, a good time was had by all, and who knows? A future Kuzzy or Compton might well have been among them.
For full results, go to olesxc.com.
{loadnavigation}