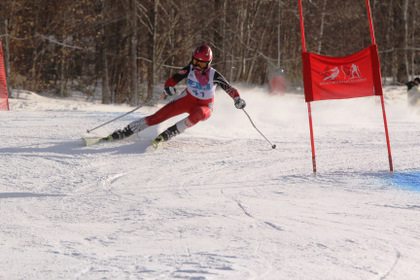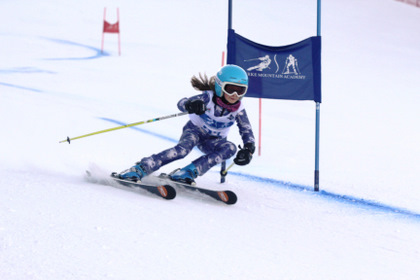 Despite howling winds and dubious snow conditions – iced  cat tracks with a coating of chunked snow that broke away as skiers plummeted down the course –  both the GMVS Ski Club J3s and J4s, competing at Stowe and Jay Peak, respectively, hung in under extreme conditions.
Main Street at Stowe is a grueling one-minute-plus giant slalom course. With resolve and strength, the first-seeded girls picked off the top turns by staying close on the gates. After a particularly nasty fall, when a toboggan was brought in and a skier was carefully loaded and taken to first aid, imposing a three-minute hold, the girls got back on track and didn't let the wait or the conditions stand in the way.
The boys shot themselves at the gates with incredible determination. The second run was much more tame, with clearing skies and a fast track of hard snow. The GMVS Ski Club posted top 20 and 30 results in both the men's and women's, with the Grabowski twins, Maddy in the women's and Jake in the men's, coming in 22nd and 24th. Sydney McGlaflin was close behind in 25th, Catherine Cole 28th, Sophia Meynard 29th, Mercedes Woolley 31st, Ellen Harnsberger 32nd, Callie Anderson 33rd, Samantha Provost 37th, Isabella Harris 38th and Rebecca Frank 40th. In the boys, Brandon Miner was 35th, Philip Klinck 36th and Wilfred Dyer Kloman 37th.
Much of the same was in store for the J4s at Jay Peak. The track was snow-coated ice on the giant slalom course and there were many spills. Again, there was a hold on the course due to an injury and the snow was at times blinding. There were some impressive finishes with Abi Jewett placing 10th and Katy McMann in 11th. Other impressive finishes were posted by Carolyn Cutting 12th, Lila Schibli 16th and Ariana Turner in 17th.
The boys, old pros at waiting out tough conditions and having to take to the course after the field of 80 girls, were in good form. Club skiers Aden Chiari placed 3rd and Caden Frost 11th, while Connor Wooley came in 12th and Henry Schibli 18th. Longtime club member Matthew Harmon was not far behind in 22nd.
{loadnavigation}