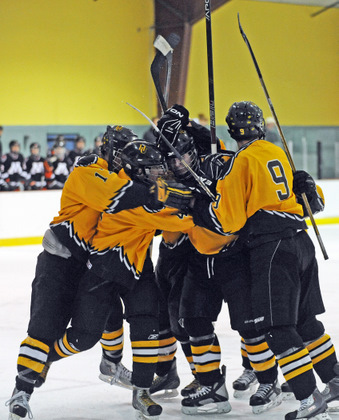 Boys' hockey
The boys' hockey team played three tough games in the past week. First, they played Middlebury on February 1 and were down 3-2 near the end of the game. Erik Bertalan scored the tying goal with 13 seconds left in the game. Unfortunately, Middlebury pulled ahead and won 4-3 in overtime. Harwood then played Essex on February 4, the number-one team in the state. Though they lost 5-1, all the players played excellently and goalie Ben Nussbaum saved an incredible 47 saves. Most recently, they played Peoples Academy on February 6. It was a very close game with Ryan VanTuinen and Kaile Daley leading the scorers with two goals each. However, Peoples stepped up to the plate and won 7-5.
Varsity girls' basketball
The varsity girls' basketball team also played three tough games last week. The first one was against Lamoille on January 31. They played without two of their regular starters, Michaela O'Brien and Naomi Koliba, but Sabrina Burbank was the leading scorer with eight points. The game ended as a loss, 43-26. Next, they played U-32 on February 2 and lost 52-20. O'Brien led the scoring with eight points and Naomi Koliba scored four points in limited playing time as it was her first game back from an injury. Their most recent game was against Thetford on February 4, and O'Brien did not play again because of an injury. Koliba scored 10 points, still working on coming back after a month with an injury, and Mandy Milne scored six. Unfortunately, they lost this game as well, 52-27.
JVA boys' basketball
The JVA boys' basketball team has played two games in the past week, and won them both. On February 1, they played Lyndon and in just the first four minutes of the game, they jumped to a 21-0 lead. Geoffrey Kazlow and Dylan MacIsaac led the scoring with 20 and 8 points, respectively. The final score was 64-27. Two days later, they played Lamoille on February 3, which was a tougher game. They were ahead by just two points at halftime but then held on for a 56-49 win. Kazlow was again the lead scorer with 26 points, while his brother Nathaniel Kazlow chipped in eight and Evan Fenelly scored seven. That win brought their season record to 12-1. 
{loadnavigation}