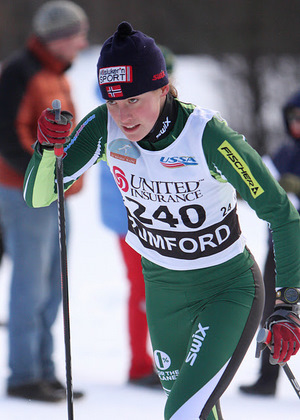 Green Mountain School athlete Heidi Halvorsen is representing the U.S. Ski Team in Albu, Estonia.
Halvorsen was selected for this 12-person team (the top six 16- and 17-year-old boys and girls) after her outstanding results at the U.S. Senior Nationals held last month in Rumford, Maine. The team will contest the best skiers from Scandinavia in two individual races (a sprint and a distance classic race and a three-person relay). Nations in attendance include Norway, Sweden, Finland, Estonia and the United States.
Qualifying for this trip was a major goal for Halvorsen's season and her naming is a result of many years of training including skiing in Italy and Montana earlier this year. The trip is designed as a part of the U.S. Ski Team Pipeline to give rising skiers with exceptional talent international racing experience.
"Heidi made great improvements to her strength this summer and making this team is a huge accomplishment," says her coach Justin Beckwith. "She ended last season on a high note with several podium performances at Junior Nationals in Minneapolis—now she has taken the next step—making this team in her first year as a J1 (Halvorsen is only 16)."
Halvorsen has trained for the last four years at the Green Mountain Valley School (GMVS) and is the third student from the school to achieve this honor, including her sister Kristin who made the team in 2009.
"We are so proud of Heidi and we look forward to her results overseas!" Beckwith says.
The Green Mountain Valley School is a college preparatory academy based in Waitsfield.
{loadnavigation}