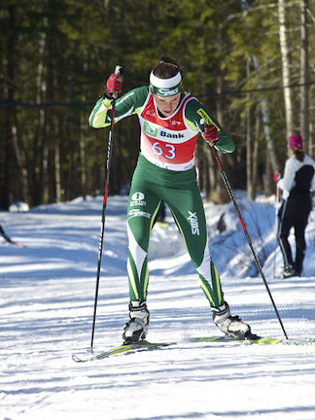 Heidi Halvorsen of the Green Mountain Valley School just finished a series of races in Mammaste, Estonia. Heidi qualified for the trip with four strong races at United States Nationals and has been training at the World Cup venue in Otepää. Skiing for team USA in the J1 Scandinavian Cup competition, Heidi is up against a world-class field of junior skiers, led by the top J1s from Sweden, Norway, Finland, Estonia, Latvia and the United States.
On day one she qualified eighth in the one-kilometer skate sprint and skied a strong B-final to end up in 10th place, the second American skier and ahead of all but one Norwegian. Her qualifying time was only nine seconds out of the victory.
The five-kilometer classic race was on the next day, and Halvorsen skied another strong race, crossing the finish in 19th as the third American. The top American, Julia Kern, was only six seconds in front of her, and the winner was less than a minute in front.
Her racing to that point won Halvorsen a spot on the top American relay team, which skied to sixth place overall. She skied a strong anchor leg to hold the position she received in the exchange zone and finished with the seventh fastest split.
The official U.S. trip is over, but Halvorsen will continue to represent the U.S. and Green Mountain Valley School in Norwegian Junior Nationals on March 16 and 17 at the World Championship courses in Oslo.
{loadnavigation}