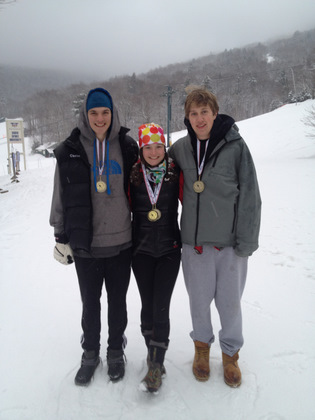 From left: Brooks Curran and Sarah Wry each placed 8th
in the district GS, while Jack O'Shea placed 18th in the slalom.
Photo: Steve Skilton
Both the Harwood alpine ski teams will compete at the Vermont State Ski Championships through qualifying at the district meets held last week at Smuggler's Notch. With 15 boys' teams competing, the Harwood boys finished a very fine third place overall. The Harwood girls also skied well and placed sixth as a team.
The teams raced on Monday, February 20, in a two-run combined time giant slalom. Brooks Curran and Sarah Wry led their teams with solid eighth-place finishes. Sophie Dasaro, 22nd, Amy Graham, 34th, Haley Behn, 35th, Ashley McNeish, 37th, and Emily Hewitt, 47th, skied to a fifth-place team finish in the event. Jack O'Shea, 18th, Colin McGlynn, 24th, Jono Gross, 32nd, Matt Crowell, 48th, and Amos Gaylord, 63rd, left the boys' team in fourth place after day one of the meet.
The team returned to Smugg's on Thursday, February 23, for the slalom. Jack O'Shea paced the boys with a solid two-run effort and a fine sixth-place finish. Brooks Curran, 14th, Colin McGlynn, 19th, Jono Gross, 25th, Alec McGlynn, 51st, and Matt Crowell, 52nd, skied well enough to move the boys into a third-place finish for the meet. This is one of the best boys' team results in a few seasons. Sarah Wry, 7th, put in two solid runs to lead the Harwood girls. Ashely McNeish, 27th, Haley Behn, 30th, Amy Graham, 34th, and Molly O'Shea, 48th, placed the Harwood girls in sixth overall.
The boys' state meet will be held Monday, March 5, at Burke with the girls racing at Pico on the March 8.
{loadnavigation}