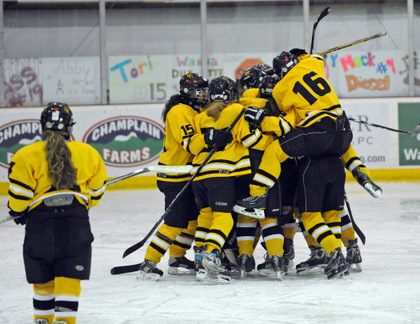 Teammates hug goalie Siena Damon after the Harwood girls'
hockey team beat Northfield 2 to 1 on Saturday night, March 3.
At press time, on March 7, the Harwood girls' hockey team was
facing number three seed Stowe in the Lake Division semifinals.
Game time 6:30 p.m. at the Ice Center in Waterbury.
The winner of this game takes on number one seed
Burr & Burton Academy on Monday, March 12, at 6 p.m. at
UVM's Gutterson Fieldhouse. Photo: Gordon Miller


---
Girls' hockey
The varsity girls' hockey team played against Northfield last Saturday in the quarterfinal playoff game. Siena Damon made some vital saves and the team as a whole improved as the game progressed. Finally Harwood pulled away with a win 2-1 and continued on to the semifinals.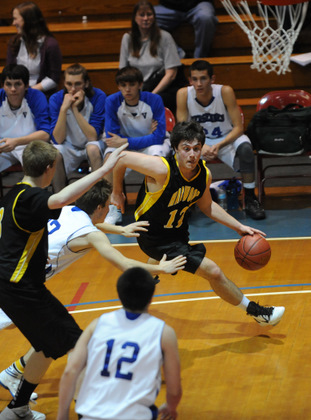 Harwood's Conor Lyons drives to the net during the
state championship game against Vergennes at the
Barre Auditorium on March 5. Harwood lost to the
number one seed 55 to 35. Photo: Gordon Miller


---
JVA boys' basketball
The JVA boys' basketball team finished their season with a win over Lyndon. Geoffrey and Nathaniel Kazlow scored 26 points together and Matt Fischer scored 10. Other team members pitched in some points here and there for a final score of 59-32. This win brought their season record to 19-1 and completed a 17-game winning streak. Coach Tom Young said, "I would like to thank the boys for their hard work and dedication and for their 'team first' attitude." Over the past three years, the JV team has had a 53-7 record and in those three years the team has not lost a single league game.
Varsity boys' basketball
The varsity boys' basketball team had a successful season that ended on Monday. They traveled to the Barre Auditorium to play the number-one seeded team in the state, the Vergennes Commodores. Harwood played well but ultimately lost 55-35. Coach Drake would like to thank and congratulate his seniors: Logan Liberty, Will Ewald, Jarrid Quirion, Max Beilke and Connor Lyons. The Highlanders finished the year with a record of 15-8.
 {loadnavigation}