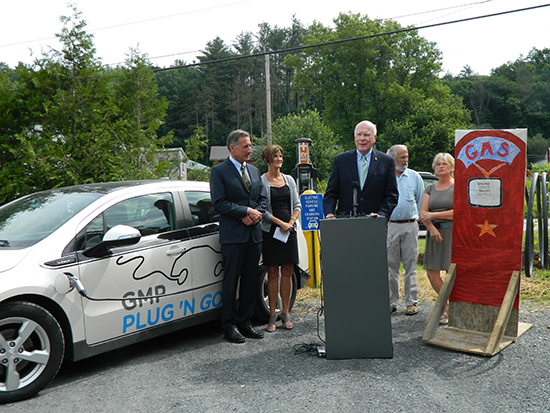 By Rachel Goff
Now, electric car drivers between Burlington, Montpelier and Waitsfield will have a convenient place to boost their batteries.
On Monday, July 7, Governor Peter Shumlin and U.S. Senator Patrick Leahy stopped by Red Hen Bakery in Middlesex to announce the installation of two new electric vehicle (EV) charging stations, reflecting a growing trend toward the development of EV infrastructure in Vermont.
The Route 2 parking lot is now equipped with both a Level 2 and Level 3 charging station. The Level 3 charger is "one of the fastest on the market," Green Mountain Power CEO Mary Powell said on Monday, explaining that it can charge a car in as little as 30 minutes, whereas the Level 2 charger takes four to six hours.
Green Mountain Power financed the public charging stations for which Red Hen Bakery has taken on the electric bill and will impose a flat hourly rate for customers. According to Powell, the cost for charging should be equivalent to paying $1 per gallon for gasoline. It's not about making money, "it's about saving Vermonters money," she said.
Leahy, himself a Middlesex resident, expressed his excitement for the new EV charging stations, explaining that the only way more people will purchase cars that run on cleaner energy sources is if the infrastructure exists to support them. "It's a 'chicken or the egg' thing," he said.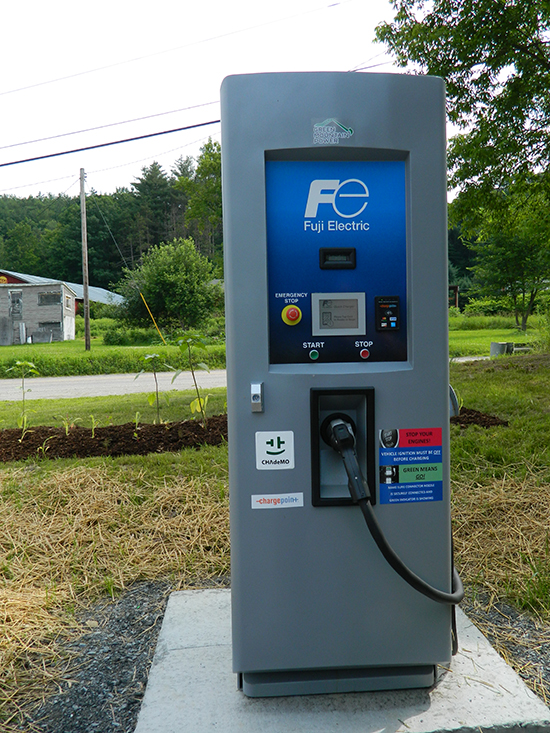 In recent years, Shumlin said after him, an increasing number of EV charging stations have helped to eliminate "range anxiety," or the fear among drivers of electric cars that they cannot travel long distances because they would run out of power without a place to charge.
And as an added benefit, with the new EV charging stations at Red Hen, "you can plug in and eat some of the best baked goods you can find," Shumlin said, speaking to their convenient location next to the local purveyor of whole grain loaves and maple scones.
While the Route 2 bakery has two of the first public charging stations in the area, other Valley towns are looking into providing the service. Just south on Route 100, Warren Energy Committee member Wendy Cox approached Warren Select Board at their meeting last month to ask if they were interested in pursuing a grant from the Vermont Downtown Program to install an EV charging station in the village.
"There are a lot of considerations," Cox said, such as the best location for the station and how to charge customers for its usage, but the board voiced their support for Cox and the committee to conduct more research on the public stations.
The particular grant Cox spoke of was available for up to $30,000 to install a Level 2 charging station with two ports. Cox estimates that installation of a networked system would cost Warren about $10,000 and with the grant the town would be responsible for a 25 percent match. The deadline for the grant had already passed, Cox said, but another round of funding could soon become available.
As for the idea of installing an EV charging station in general, "I think it's going to be a necessity, not a fringe, at some point," Cox said, and select board member Bob Ackland agreed.
"This is an evolving need and infrastructure that's going to have to be figured out by somebody," Ackland said, if not by the town of Warren.
In terms of locations, the board discussed the possibility of installing an EV charging station at either Warren Elementary School, in the municipal parking lot in Warren Village, or at one of the town's two park & rides.
Like the stations at Red Hen Bakery, the board considered the fact that customers will need somewhere to wait while they charge and having the electronic vehicle drivers in town could encourage the patronage of local businesses.
Moving forward, the select board suggested that Cox continue looking into the logistics surrounding town-owned EV charging stations with the Warren Energy Committee.
{loadnavigation}