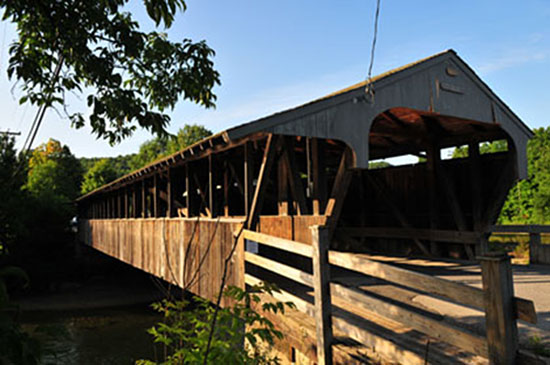 By Lisa Loomis
Waitsfield's long-awaited covered bridge and Bridge Street project will not happen this year, despite the town's success in finding more money for the project – which came in $270,000 over budget when the bids were opened.
Waitsfield Select Board discussed the issue at its August 26 meeting with engineer Evan Detrick who advised against putting the project back out to bid as quickly as possible. The lowest bid came in $240,000 over budget and over what town voters authorized the town to spend on the project. With the engineering oversight that the project requires, the total overage is closer to $274,000.
At the August 26 meeting, town administrator Valerie Capels told the board that she had been informed by the state that the town could receive $147,693 in additional grant money if the town accepted the current low bid. There is no guarantee that the money would be available after a future bidding process. If the town accepted that $147,693, the project would still be underfunded by about $141,000.
Later in the week, Capels, in working with wastewater consultant Juli Beth Hinds of Birchline Consulting, learned that it might be possible for the town to use federal STAG funds that it already received for a large municipal wastewater project (which voters rejected and the town must repay unless it can use those funds for wastewater projects or loans for decentralized waste systems) to offset some of the Bridge Street project's stormwater costs.
That STAG money, if it can be used that way, could bring the town another $119,350 toward the project, leaving the town short only about $22,000.
The select board did not know about the STAG money potential at its August 26 meeting and instructed Detrick to prepare letters rejecting the Bridge Street and covered bridge project.
Capels said that the town is in a Catch 22 situation where they were advised by their attorney not to sign a contract (with the low bidder) for which they don't have the funds and they do not yet know if the STAG funds can be used for part of the Bridge Street project costs.
The project has been in the works since 2008 and it involves long-overdue repairs to the covered bridge, in-stream work on the bridge abutments, streambank stabilization work as well as storm drain and drainage work on Bridge Street. Additionally, the project involves repaving Bridge Street and sidewalk work on Bridge Street.
Voters have authorized the town to borrow up to $75,000 toward the project which includes $475,730 in repairs to the covered bridge and abutments plus $185,137 for work on Bridge Street itself, including repaving it and repairing the stormwater system and retaining wall on Bridge Street. The town received the first grants for the project in 2008.
The bids that came in ranged from $857,684.50 to $1,102,706.30.
{loadnavigation}