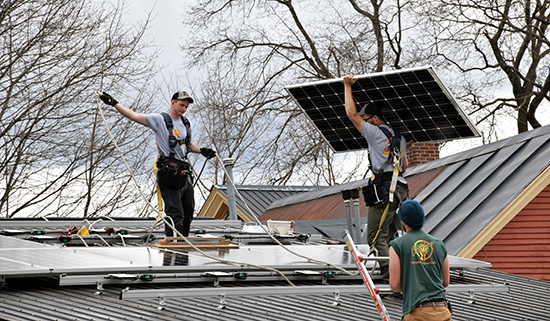 This Saturday, May 2, there's a lot happening at Village Grocery in Waitsfield.
On the 45th anniversary of Green Up Day, the local gas station plans to unveils its new charging station for electronic vehicles — the first public one in The Valley — as well as a 10kW solar array it installed on its roof.
Starting May 2, Village Grocery will donate one penny from every gallon of gas it sells to Capstone Vermont's home weatherization fund. Champlain Oil Company will match its donation and to attract customers, Village Grocery owner Troy Kingsbury will have plenty of beer.
For Saturday, the convenience store will receive over 100 cases of beer from The Alchemist, as well as 100 cases of Lawson's Finest Liquids' Sip of Sunshine IPA. "All these people drive ridiculous distances to come get Heady Topper," Kingsbury said. "If they're going to come up here anyway, I wanted to think of something cool to get them to buy their gas here," he said. A portion of proceeds from the sale of every case will also go toward Capstone's home weatherization fund.
Solar charging station at The Village Grocery in Waitsfield, VT. Photo: Jeff Knight
In addition to selling beer, Village Grocery will host a beer tasting with Crop Brewery in Stowe inside the store. 14th Star Brewery from St. Albans, Bent Hill Brewery from Braintree and Foley Brothers Brewery from Brandon will serve up samples outside where the Waitsfield-based Artisan Meats of Vermont will be cooking up their local meats.
During Green Up Day, Village Grocery is getting an extra dumpster from Casella Waste Management so it can serve as a dropping-off point for full trash bags and anyone who drops off a bag will get a free creemee. To further entice people to pick up litter, Kingsbury will hide five stuffed animals along Route 100 in Waitsfield. If found, they can be redeemed at the store for cash and prizes at the store.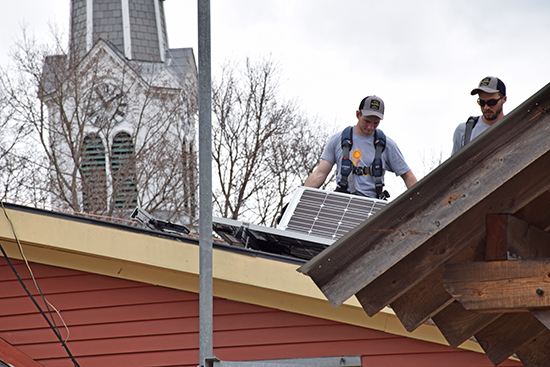 Solar installation at The Village Grocery in Waitsfield, VT. Photo: Jeff Knight