Voters returned incumbent state Representatives Maxine Grad, D-Moretown, and Adam Greshin, I-Warren, to offices during voting on November 8. Grad and Greshin were challenged by Jake Sallerson, I-Warren, and Marie Leotta, R-Waitsfield.
Grad received 2,871 votes from the five towns in the Washington-7 legislative district. Greshin received 2,967. Leotta received 1,189 and Sallerson received 872. The five towns in the district are Warren, Waitsfield, Fayston, Duxbury and Moretown.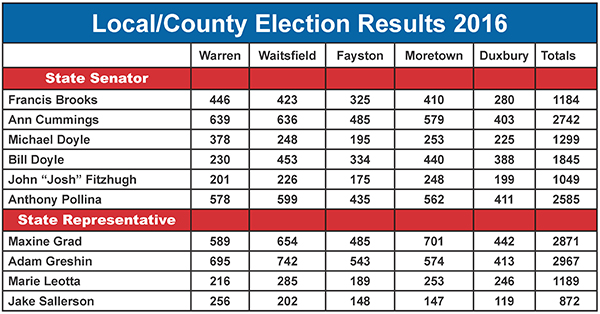 Voter turnout was 78 percent in Waitsfield, 75 percent in Moretown, 73 percent in Warren and Duxbury. Turnout was 70 percent in Fayston.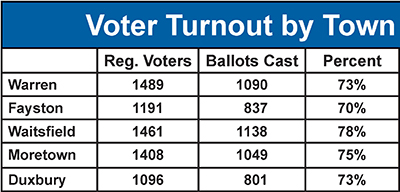 Valley voters cast 3,172 votes for Democratic presidential nominee Hillary Clinton and 946 for Republican nominee and national winner Donald Trump. Support for Clinton was dominant throughout The Valley, but Trump received solid numbers in each town: Warren, 182 of 1,090 votes cast; Fayston, 142 of 837 votes cast; Waitsfield, 210 of 1,138 votes cast; Moretown, 216 of 1,049 votes cast; and Duxbury, 196 of 801 votes cast.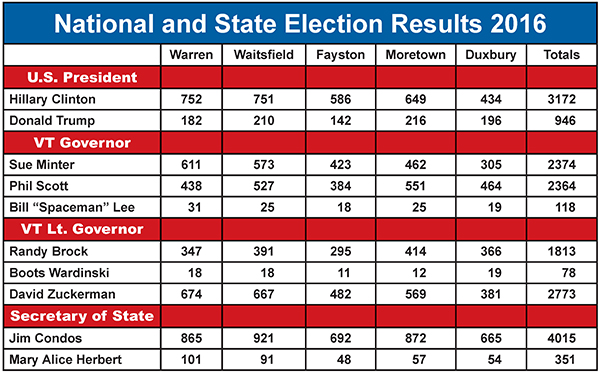 Valley voters bucked the state trend by favoring Vermont Democratic gubernatorial candidate Sue Minter over the winner, Republican Phil Scott. Local voters cast 2,374 votes for Minter and 2,364 for Scott as well as 1,118 votes for Bill Lee.
In the race for lieutenant governor, Valley voters mirrored the rest of the state in electing Progressive candidate David Zuckerman. Local voters cast 2,773 voters for Zuckerman and 1,813 for Republican candidate Randy Brock, plus 78 votes for Boots Wardinski.
Unlike the rest of Vermont, Valley voters would have returned longtime Washington County Senator Bill Doyle (R) to office. Doyle lost in a five-way race for three Washington County Senate seats. Incumbent state Senators Anthony Pollina, P-Middlesex, and Ann Cummings, D-Montpelier, were re-elected as well.
Valley voters gave Doyle 1,845 votes and his Democratic challenger, Michael Doyle, 1,299 votes. Local voters gave Cummings 2,742 votes, Pollina 2,585 votes and the fifth candidate, Francis Brooks, received 1,884 votes.
Doyle's narrow loss comes after more than 40 years in the state Senate. Brooks is a former member of the House. According to unofficial state results, Brooks defeated Doyle by 187 votes. Doyle is the creator of the well-known annual Town Meeting survey.