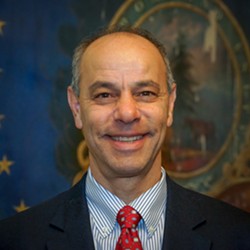 Adam Greshin, Warren, has been named state finance commissioner by Vermont Governor Phil Scott. Greshin will be resigning from his seat in the Vermont Legislature where he has served as an Independent for four and a half terms. Greshin is currently a partner in Summit Ventures, which owns Sugarbush. He will resign from his day-to-day duties at the resort and remain a passive partner. In the Legislature he served on the House Ways and Means Committee for seven years. He is replacing Andy Pallito, who is leaving the post to become director of health system finances for the Green Mountain Care Board.
Over and out!
By Adam Greshin, I-Warren
Last week I accepted a job in the Scott administration as the commissioner of Finance and Management. My main job will be overseeing the annual development of the governor's budget and advocating for it in the Legislature. Additional responsibilities include maintaining the state's central accounting system and providing training and support for state employees using the system. It's a big job and I'm honored to be asked to do it.
I took the job for two reasons. Fiscal and monetary policy was an important focus for me in the Legislature and a regular topic in my columns. The budget is the key policy document for the state. How a state raises money and how it spends money tells you a lot about its priorities and its personality. I always wanted to be part of the conversation. I also took the job because I share many of the governor's fiscal priorities. Regular readers will know I haven't always agreed with the governor, but when it comes to the issues of affordability and economic growth, I'm all in. I believe the governor deserves credit for highlighting the challenges we face and the opportunities we have.
My work for Governor Scott begins on July 10 and on that date I will relinquish my House seat. It would be a vast understatement to say I enjoyed being a legislator. I loved it. Meeting people, solving problems, debating the issues, thinking the Big Thoughts – it was well worth it. I would have been happier if I got my way more often – a common legislator lament – but just having the debate was a thrill. For a policy wonk, there's no better job.
I'm not a big believer in term limits; that's why we have elections. I am a believer in self-policing. Five terms in the House is by no means unusually long, but it provides ample time to plant your feet, learn the ropes and make things happen. Many legislators hit their stride after their first or second term, but at some point it's time to move on and make way for new energy and new talent. For me, that time was near. I will remain eternally grateful to the voters who elected me to serve – for allowing me the privilege of serving – and I fervently hope I have done you proud. Thank you for your confidence.
I will face a sobering budget climate when I get to the office next week. On the bright side, it appears we will end the 2017 fiscal year (end June) on target for revenues and expenses. Vermont has a long and commendable tradition of forming credible revenue forecasts and managing the budget to them. This year was no different. The 2018 budget, which begins on July 1, calls for a scant 1.3 percent increase in state spending, the lowest increase in many years. This is because the tax bill to support the budget has no new taxes or fees and we're expecting very little growth in existing revenue sources.
On the more neutral side, we just finished the eighth year of an economic expansion that began in June 2009. Using data going back to 1854, only two economic cycles have exceeded this length. I'm no economic forecaster, but it's reasonable to assume we're closer to the end than the beginning of this cycle. It never felt like much of an expansion anyway, largely because labor force participation was so weak.
On the gloomier side, the smoke signals from Washington are not encouraging. Even if all the bluster in DC turns out to be just bluster, we have to expect at least some reduction in support for critical programs. Of the $5.8 billion in total state spending, $2 billion is federal money, including large components of our health care, transportation and natural resources budgets. We will develop contingency plans that may not be needed, but the specter of federal cutbacks will loom large over budget discussions this summer and fall.