Several hundred people, including Governor Phil Scott and other state officials, showed up for the official groundbreaking for Lawson's Finest Liquids' new brewery on Carroll Road in Waitsfield last week.
Many other well-wishers arrived after the ground had been broken with golden shovels to celebrate, sample and purchase libations, listen to music and enjoy food at the August 25 event.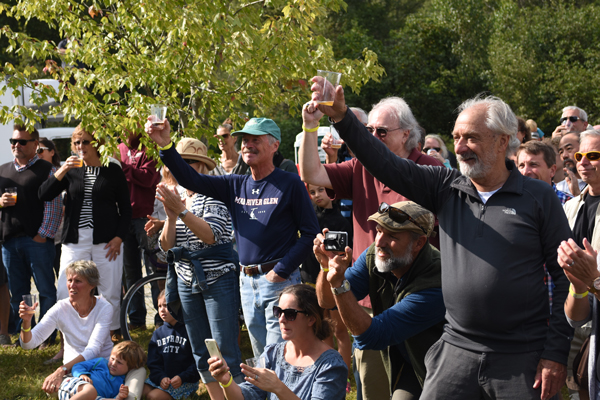 Brewer and co-owner Sean Lawson thanked folks for coming to share the occasion.
"Wow is all I can say. What a thrill. This is such a momentous occasion for me and my family. Thank you all for coming out today," Lawson said, surrounded by his wife, Karen, and their daughters, Ava and Jade.
"We're so thrilled to be able to do this here in the Mad River Valley and appreciate the opportunity to do something positive and have a real impact," he added.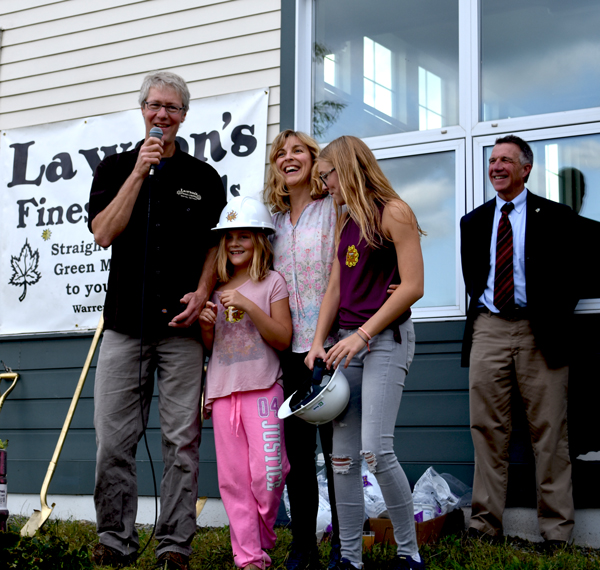 Vermont Governor Phil Scott applauded the Lawsons and congratulated them on what they have achieved. He noted the significance of craft brewing in Vermont, which has sales of $375 million and represents 2,000 jobs in the state.
"I know better than to address a crowd at noon and stand between them and the food, but standing between a crowd and beer? That's another thing. I've learned to keep it short," Scott said to laughter.
Jon Jamieson, local business owner, standing in for Joshua Schwartz of the Mad River Valley Planning District, called Lawson's success story "a classic Mad River Valley story, a guy in a garage with a huge passion that turned into a fantastic business that has a national name and calling."
Jamieson cited the groundbreaking for Lawson's Finest Liquids as a continuation of other positive changes in The Valley, including the new Mad River Taste Place, a revitalized chamber of commerce, a completed renovation at Waitsfield United Church of Christ, a library renovation project and others.
"Sean is giving us another boost in that direction. We're proud of you and grateful. We're proud to be part of your brand and have you as part of our terroir. Thank you for repurposing a tired property and modeling how to make community wastewater work and for bringing jobs to The Valley," Jamieson said before calling for a toast.
Work got underway in earnest on August 28 on the 7,500-square-foot brewery and on reconstructing and recycling the 7,500-square-foot building that will be the tasting center and retail store. The property was formerly home to Valley Rent-All and its one-time tent rental business.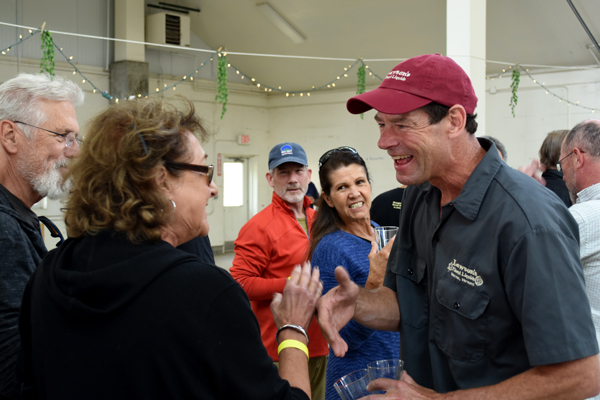 The Lawsons, Warren, are going to keep the small brewery in Warren that they've had since 2008 as a workshop where they will work on developing new beers. Their award-winning beer is currently made at the 7 bbl (barrel) brewery in Warren and by next fall they'll be crafting their product at the new 30 bbl brewery in Waitsfield.
Three years ago, Lawson's started working with Two Roads Brewery in Connecticut, manufacturing Sip of Sunshine, a partnership that will continue.
This event was filmed by MRVTV and can be seen at MRVTV.com.
Video Links: ValleyReporter | MRVTV/Youtube
Send comments/questions about this article to This email address is being protected from spambots. You need JavaScript enabled to view it..