"Kids always say they want to be artists when they grow up and I want them to realize they're already artists. They're making artwork that is so beautiful and has value." – Nora McDonough
For art teacher Nora McDonough, helping students be creative and learn to use their creativity is her No. 1 job.
McDonough is the art teacher at Waitsfield and Fayston Elementary Schools and she is putting the finishing touches on her sixth annual Bridge Street Art Fair, which showcases the artwork of her students.
The art fair takes place Saturday, May 19, behind Bridge Street Marketplace in Waitsfield. It features students' art along with the work of adult artists, plus crafts, music, refreshments and more.
CREATIVE COMMUNITY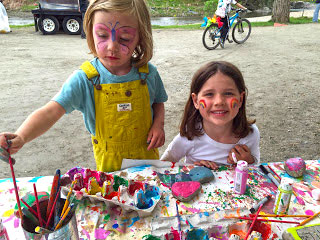 "Kids always say they want to be artists when they grow up and I want them to realize they're already artists. They're making artwork that is so beautiful and has value. When they see their art on display at the fair and it is seen by more than just their fellow students, teachers and families, they can see the value of what they're doing and how beautiful it is," she said.
"We're so lucky to have such a creative community. It's really important for kids to see themselves as part of that and see themselves as artists alongside professional artists. It's really great to take their art out of the somewhat sterile school environment and see it in this spectacular setting by the river and the covered bridge," McDonough said.
This is the sixth year that the art fair has been held on Bridge Street. The inspiration for it came after Tropical Storm Irene when the Bridge Street community was putting itself back together after the flooding.
LONG, COLD WINTER
"It was a way to connect the community with the schools and get people to support the local businesses and also just come out of hibernation after a long, cold winter," she said.
It will be a busy weekend for the local student artists. There's a school districtwide art show that opens in the red barn at American Flatbread on May 18, the night before the art fair. American Flatbread founder George Schenk proposed the idea of the districtwide art show and McDonough and her peers across the district said yes.
McDonough revels in the exposure for her students' work noting that sometimes kids get stuck in what they think is expected of them and stuck in some prescribed sense of a finished project.
When that happens, "They lose the process, all the steps, the mess-ups and erasures. My job is to help kids be creative and really try to hone their skills," she said.
VOLUNTEERS NEEDED
Volunteers are needed to help set up for the art fair starting at 8 a.m. on May 19. The fair runs from 11 a.m. to 5 p.m. This year it starts with a bike parade and bike obstacle course at Waitsfield Elementary School at 10:30 a.m. Kids can decorate their bikes as well and then ride down Route 100 (which will be closed for a few minutes to allow them safe passage) to Bridge Street where there will be a variety of free art activities for kids and families. There will be collaborative art making and things that kids can make and take home with them plus face painting, live music, food trucks and more.
"We will also have kids selling their own creative products and money from student sales goes toward charity, so that in addition to kids getting engaged as artists, they're also thinking about how they can give back," McDonough said.