Why are so many businesses in the Mad River Green Shops owned by women?
The Mad River Green Shops, Waitsfield, is host to multiple small businesses as well as the U.S. Post Office, Bisbee's Hardware and others, and a majority of them are owned, co-owned or managed by women.
In the shopping center, Three Mountain Cafe is owned by Julie Burns, Whippletree Designs is owned by sisters Blair and Heidi Boettger, and Opulent Designs is owned by Heather Habich. The Collection is owned by Yvonne Fugate and her husband, Tom Fugate. Savitri Bhagavati owns Ideas and attorney Lauren Kolitch maintains an office in the shopping center as well.
Peanut and Mouse is owned by Jill Rickard. Better Travel is co-owned by Tom and Susanne Bryne. Mad River Taste Place is managed by Mary Tuthill and Kelly Andrews is the Northfield Savings Bank branch manager.
Beyond the confines of the shopping center, but still part of it, A Schoolhouse Garden is owned by Nancy Murray and Sportive is owned by Cheryll Patty. Miss Lissa's is owned by Melissa Sun and Ana del Rosal owns Mountain Rose Yoga. Ali Smith is the manager of TD Bank.
And that's just the businesses on the west side of Route 100!
The Valley Reporter caught up with some of these business owners to see how they ended up where they are.
Opulent Designs owner Heather Habich started her sewing business while she was attending college in Burlington and raising a family.
STARTED OUT SMALL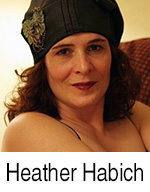 "It turned out to be too much with nothing to live on, so I started out small taking in alterations, which doesn't require much of an initial investment. I gradually worked my way up to doing blinds and shades for major contracts such as the Burlington International Airport," recalled the retail shop owner.
Habich mentioned that being a business owner includes managing money, filing business taxes, customer service, time management and marketing.
Habich, a Brattleboro native, returned to the area and took classes at CCV, later moving to Burlington where she attended UVM.
"Next I started my business and took the women's small business project course at Trinity College. After, auto mechanics school and electricians school, both at the Essex Technical Center," said Habich.
Habich said she loved the people in The Valley but needed to make a steady living. She had always dreamed of owning her own clothing boutique. "The timing was right and I felt settled in The Valley. For the first time I actually feel like I'm part of a community, so I took a leap and went for it."
The Collection owners, the husband-and-wife duo of Yvonne and Tom Fugate, bought the business in in 1996 from Kevin Beaudreau and Jim Schultz, who had purchased it from its founder, Mary Brothers.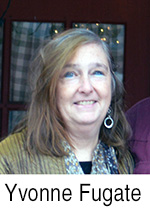 Yvonne Fugate had taken business, marketing and communications classes while attending American University.
DIDN'T LIKE TO COMMUTE
Julie Burns, owner of the Three Mountain Cafe, took over the business in 2002. It had been run by the late Pam Kluckner under the name Green Mountain Cafe, below the space where Green Mountain Coffee Roasters (now Keurig Green Mountain) got its start.
Burns, before her ownership, worked for her parents at Valley Rent-All for 20 years and then for Vermont Tent Company. It was during this time that she felt she would rather be self-employed and start her own business. "I decided I didn't like to commute, so the cafe came up for sale and I purchased it," said Burns.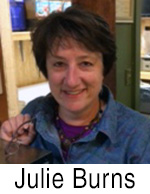 Burns joked that when starting the business, she didn't care for coffee and had some experience with retail but none with food service. Burns and her husband, Paul, enjoy antiquing. Furniture they liked and purchased eventually found their way into the shop where individuals can enjoy it as well as buy it.
When asked why these women chose to go into their specific market, their answers varied.
"I just always dreamed of having a women's clothing store, but then it started morphing into something that was much closer to my heart – eco-friendly clothing. Today's clothing with a conscience is much more colorful and beautiful and comes in so many different styles," said Habich.
CREATIVITY FREEDOM
The Fugates went into the gift and apparel market. "I knew we were in a low population base community, so I knew I couldn't be one thing to lots of people, so I had to be many things to a few people," said Yvonne Fugate.
When asked what the best and most trying thing about owning a small business was, most commented on their freedom with their creativity and decisions.
"I would say you're open to use all of your creativity, it doesn't get squashed, and that's the most freeing part of it. You still have to be profitable and think about what your customers are looking for," added Yvonne Fugate.
"Making my own decisions, and I get to be friends with everyone else in The Valley. I work together with a lot of the other businesses and its part of the community. I see the same people every day; it's a community hotspot," said Burns.
Habich noted the best thing is knowing all her effort relates to her success. The most trying thing is getting people to come into the little shopping plaza, she said.
LONG-TERM HELP
Burns explained the most difficult thing is finding long-term help as the job climate has changed and older kids don't need the after school work or they have busy sports schedules. Burns also brought up the affordability problem in The Valley where individuals need two to three jobs to make ends meet or to pay for housing – which is expensive.
The most trying thing for the Fugates was keeping a steady flow of customers. "Trying to keep the doors open in this day and age with all the choices at the hands of the consumers," said Fugate as she spoke to the simplicity of ordering online rather than taking the time to shop around locally.
Habich's answer to if she would start over again knowing what she knows now, and if she would change anything, was "Everything is mostly to my liking, except looking back I would have put more money into inventory than things that weren't as important because I always feel like I don't have as much inventory as I would like."
Burns commented that she would start with a business plan and get a partner. Her dream for the coffee shop was to endorse a "Vermont country store feel."
Burns and Fugate suggested to those who hope to start their own business to research the location and to be sure that there is a demand in the marketplace for what you want to do. Habich's advice was to take some sort of small business ownership courses.
Editor's Note: Full disclosure, The Valley Reporter is owned by Lisa Loomis and Pat Clark.