Reisner named highest agent in total sales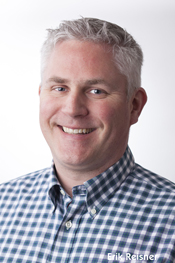 Mad River Valley Real Estate announces that partner Erik Reisner was recently named the highest ranked real estate agent in Washington County for total dollar volume of sales in 2022. This is the second year in a row Reisner was ranked no. 1. In the Mad River Valley Reisner posted both the highest total dollar volume of sales and also the highest total number of units sold (Source: New England Real Estate Network for the period 01/01/2022 – 12/31/22).
When not catering to his real estate client's needs Reisner caters to the emergency care needs of the residents and visitors of the Mad River Valley as a volunteer first responder for the Mad River Valley Ambulance Service (MRVAS). He responded to a total of 98 emergency calls in 2002 and has been with MRVAS for 15 years. Mad River Valley Real Estate is a full-service Waitsfield based real estate company servicing the Mad River Valley and Central Vermont region.
Three Peaks Medical Clinic celebrates grand opening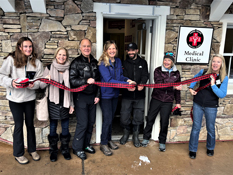 Three Peaks Medical Clinic at Lincoln Peak is open and providing medical services. While the clinic opened on Friday, December 16, the official ribbon cutting was celebrated on Friday, December 30. Doing the honors, (with trauma shears, of course!) are Three Peaks' board of directors Win Smith, Chad Borofsky and Barb Masser with help from Black Diamond Club donors Lili Ruane and Sarah Maynard.
Pictured from left to right - Meghan Kerfoot, Barb Masser's daughter, Lili Ruane, Win Smith, Barb Masser, Chad Borofsky, Sarah Maynard, and Kathy Davis.
For more information about Three Peaks Medical Clinic visit: www.ThreePeaksMedicalClinic.org
1824 House to serve dinner
The 1824 House in Waitsfield will begin serving dinners on Fridays and Saturdays, starting January 6. Dinners will be served in the barn from 5 to 9 p.m. Fare is described as casual and food service ends at 8 p.m. To view the menu, visit: https://www.1824house.com/kitchen/dinner
Shelterwood Construction wins award
Shelterwood Construction won an American Institute of Architects Merit award for the Black and Light house the company built in Stowe. This project was designed by Harry Hunt Architects in Stowe. This modern and sustainable home was custom built for a small family. It is an all-electric, net zero home, renewable energy, powered, with air sealing, balanced fresh air ventilation, and European windows. This home was built with sustainable and local materials whenever possible.
https://www.aiavt.org/news-events/news-details/post/aiavt-2022-annual-design-award-winners-announced
George McCain Jr. takes over McCain Consulting
McCain Consulting, Inc. announces a transition to its second generation of leadership. On January 1, 2023, George McCain Jr., PE, became president of the company succeeding his father, Gunner McCain, who founded the firm in 1990. Gunner McCain will remain with the firm for the foreseeable future to ensure a seamless transition and transfer of institutional knowledge.
The firm will continue to offer land use planning services for all phases of development with its staff including a licensed engineer, surveyor, technicians, and permitting specialists.
George McCain joined the firm full-time in 2014, after previously working part-time as an engineering technician throughout college. He is a licensed professional engineer in the state of Vermont, having received his bachelor's degree from Clarkson University and master's degree from the University of Vermont. He was recognized by Vermont's engineering community by being named Vermont Young Engineer of the Year in 2015. He is actively involved in the Vermont Section of the American Society of Civil Engineers (VT ASCE) and has served on the board of directors since 2009, including section president for 2016-2017. He lives in Waterbury Center with his wife Caitlin, two daughters and their dog Saoirse.