Rita and Nickie Ioannidis, Warren, became U.S. citizens last month, after living as permanent residents for some 25 years. They came to the United States from Canada when Nickie was 7 years old and in first grade.
Now, 32, Nickie is looking forward to voting for the first time, something he's never been able to do. Rita is likewise excited about registering to vote and joked that she's going to become mayor of Warren.
Rita said she is thrilled to have become an American citizen. Since emigrating from Canada, she's lived in Florida, Texas, Boston, New York and the Caribbean. But now Warren Village is their home. She has an art gallery; Art in The Village in Warren and Nickie is a photographer as well as barista and baker at Three Mountain Café in Waitsfield.
They started the process by applying online this summer on January2022. Nickie heard from the federal government in three months and Rita heard back in nine months. They were briefed on the process and also on the test they'd need to take. They studied 100 questions about the United States, its history and government. During the test they were only asked 10 of the questions and needed to answer six correctly to pass.
Rita passed the first time and Nickie passed the second time after more work and investment.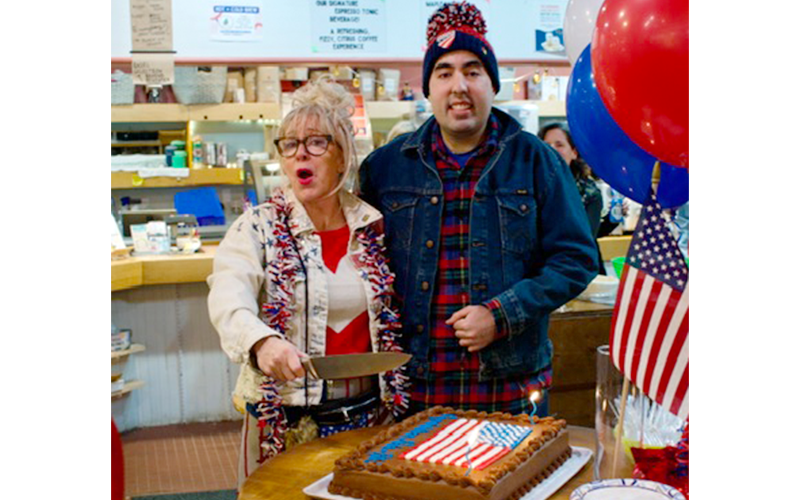 They became citizens on December 14, 2022, at the American Legion Hall in Barre, taking the oath administered by two judges. Both were dressed to the nines for the ceremony.
It was an emotional moment Rita said. "I cried."
Their new citizenship was celebrated at a party at Three Mountain Café where everyone wore red, white and blue clothes and a performer sang American songs while they were feted by friends with cake and more.