New yoga studio and art loft open in Waitsfield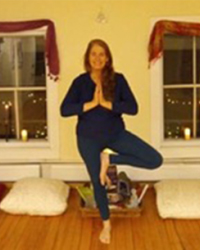 BLYSS Yoga has opened a new yoga studio/ art loft in Waitsfield on the corner of Bridge Street and Main Street. It is in the historic Waitsfield House with windows overlooking downtown Bridge Street and Main Street. The studio opens with a diverse group of yoga instruction: Vinyasa, Yin, Hatha, Ashtanga, Kundalini, Meditation, Mindfulness, Trauma and Recovery Yoga, Chair Yoga, Kids Yoga and more.
BLYSS Organic Cacao will be served after every class. The art loft features yoga-related jewelry, local original art, bottles of Blyss Cacao, Apothocary CBD and essential oils, salves and other. Check out the class schedule at www.BlyssYogaVermont.com. Classes are offered Monday through Friday at 11 a.m. in person and via Zoom.
BLYSS Yoga Sanctuary was founded in September 2022 on Blueberry Lake in Warren, Vermont, with the intentions of combining yoga and nature to connect to bliss. Outdoor yoga classes on the lawn overlooking Blueberry Lake start May 2023. Owners Rita and Charlie Brown have lived here over 20 years and hosted many happy and memorable events. These include weddings, anniversaries, birthdays, memorials, concerts yoga and retreats.
The new studio will be open year-round, seven days a week. Weekends will feature community events with live art, live music, special classes and more.
Wanderfuel -- A Belgium IPA, debuts at Paradise Provisions February 17,2023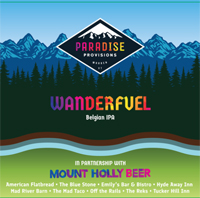 Wanderfuel is a collaboration between Paradise Provisions and Mount Holly Beer Co. This Belgian IPA is inspired by the European roots of Mount Holly beer and the Green Mountains. It is brewed with grains of Paradise, Belgian yeast, Champlain Valley Hops and infused with Maple Spruce tips.
"It took a village, to bring this beer to fruition. Thank you to our Valley partners that helped make our beer dreams come true. Find a pour of Wanderfuel at these Valley locations and at Paradise Provisions on Sugarbush Access Road," said spokesperson Valerie Bigelow. There will be a tasting at Paradise Provisions on February 17 and 19. Wanderfuel can be found at many local venues including American Flatbread, The Blue Stone, Emily's Bar & Bistro, Hyde Away Inn, Mad River Barn, The Mad Taco, Off the Rails (Mount Holly Beer), The Reks, and Tucker Hill Inn.
Change coming to Mad River Path
February and March will be the final two months that Ross Saxton serves as the Mad River Path's executive director.
"While there is still two months' worth of progress to be made before I depart my position, I want to ensure a smooth transition to a new executive director. The board of directors and I will work on a transition plan in the coming weeks and release a job description for the next executive director sometime in February," Saxton explained.
"I have sincerely enjoyed getting to know The Valley in such a unique and meaningful way over the past three and a half years. I'm also grateful for all of the relationships that this job has allowed me to form. There's a lot I will miss about leading the work of the Mad River Path, but it is time for my next adventure that will fit the needs and lifestyle of my family, Saxton said. He and his family will be staying in The Valley.
Vermont Businesses for Social Responsibility welcomes new board members
Vermont Businesses for Social Responsibility welcomes three new members to the organization's board of directors: John Kim of the University of Vermont Grossman School of Business, Karen Lawson of Lawson's Finest Liquids, Waitsfield, and Kate Ogden of Seventh Generation.
Karen Lawson is co-owner and chief Impact officer of Lawson's Finest Liquids where she currently oversees the company's values-based Social Impact Program which works to support thriving communities. Her past, part-time roles at Lawson's Finest Liquids have spanned from overseeing wholesale distribution logistics to taking on chief creative officer duties when the Waitsfield brewery, taproom and retail store were launched.
Before joining Lawson's Finest Liquids full time in 2017, she had a 20-year career in Vermont state government holding a variety of roles including Housing Coordinator with the Department of Corrections and manager of the state's Serious and Violent Reentry grant program. Lawson also worked at the Secretary of State's office to launch the Safe at Home program which provides address confidentiality to victims of violence.
"In my new role as chief impact officer I'm responsible for shaping and guiding the mission-based initiatives of Lawson's Finest Liquids to create the greatest possible social impact, act as a steward for corporate responsibility, and bring our company values to life for staff, fans, community and the environment to create a lasting legacy," said Lawson. "I greatly respect the work that VBSR does to support corporate social responsibility for Vermont businesses and the opportunity to participate on the board of directors is exciting."
Annually, in the late summer, VBSR makes a call for board nominations. Members and friends of VBSR are asked to consider who might be a great addition to VBSR's board of directors, including those who would benefit from the opportunity. VBSR especially seeks board members who identify as women and non-binary, people of color, veterans, individuals with disabilities, members of the LGBTQ+ community, rural businesses, and other identities and lived experiences traditionally underrepresented in dominant business culture. Learn more here https://vbsr.org/nominate-for-vbsr-board/