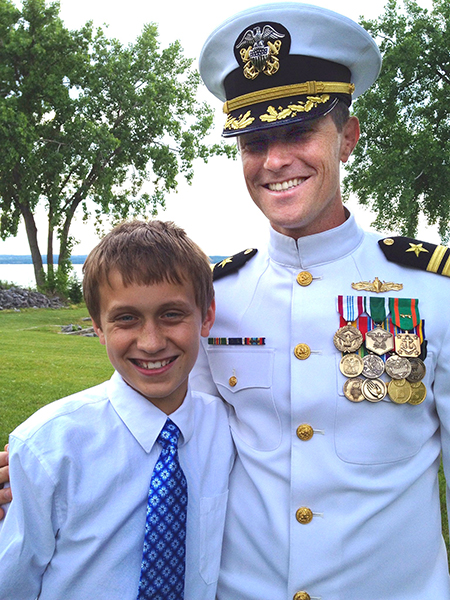 Fayston native Eddie M. Crossman will become Fayston's youngest and first commander of a naval destroyer when he takes command on July 15.
He is the son of Steve and Carole Crossman of Warren. He is presently executive officer of USS Carney (DDG 64) in Mayport, Florida.
Crossman's connection to The Valley is deep. He lived across the street from the late Henry Perkins on Tucker Hill Road and knew him as Uncle Henry. He took ski lessons from Jane Hobart on Friday afternoons at Mad River Glen, and he attended Fayston Elementary School through sixth grade with Carla Lewis, Gail Breslauer, Carol Wheelock and George Bedrin (among others) as his teachers.
Some of his classmates included Kristine Benz, Virginia Ferris, Justina Boyden, Amy McMurtry, Kelly Brown, Kathy Thompson, Timberly Hedenberg, Danielle Bessette, Mark Poulin, David Moulton and John Pollock.
Crossman received his appointment to the Naval Academy from then Congressman Bernie Sanders, former Senator Jim Jeffords and Admiral Farragut Academy.
Crossman graduated from Admiral Farragut Military Academy High School and in 1996 from the United States Naval Academy with a bachelor of science degree in political science. He earned a master's degree in business administration from Norwich University and is a 2010 Georgetown Congressional Fellow and a 2011 graduate of the NATO Defense College, Rome, Italy.
In a 2008 letter of commendation upon being selected for commander for the United States Southern Command, U.S. Navy Admiral J. Stavridis wrote, "There is nothing, not one single thing, better than leading the men and women of our Navy at sea. This significant accomplishment speaks volumes of your sustained superior performance over the years and I am very, very proud of you. Godspeed and open water in the voyage ahead . . . ."
Stavridis added a handwritten note that read "I am so, so proud of you!"
His initial sea tour was on the USS Thomas S. Gates (CG 51) in Norfolk, VA, and Pascagoula, MS, as the ordnance officer and legal officer deploying with the JFK Battlegroup. His second sea tour was with Beachmaster Unit One (BMU-1) as officer in charge, deploying with the Bonhomme Richard ARG and 15th Marine Expeditionary Unit (Special Operations Capable), conducting Operation Southern Watch from Camp Udari Kuwait and the Kabal in Qatar as well as East Timor Humanitarian Assistance Operations, earning the qualification as a Small Craft Officer in Charge.
His third sea tour was on the USS Mason (DDG 87) as the weapons officer and combat systems officer, deploying three times to the Arabian Gulf and Horn of Africa with the Harry S. Truman and Eisenhower Strike Groups conducting maritime security operations in support of the global war on terrorism, Operation Iraqi Freedom and Operation Enduring Freedom as well as anti-piracy patrols with Combined Task Force 150, twice consecutively earning the Battle E.
Ashore Crossman served at Naval ROTC Unit Norwich University in Northfield, VT, as a naval science instructor and the regional officer recruiter for the Northeast Region. Additionally, he served as flag aide to the Commander USSOUTHCOM and served as special assistant to the commander USSOUTHCOM for Congressional Affairs. He has also served as defense fellow to Senator Roger Wicker (R-MS), the ranking member of the Senate Seapower Subcommittee of the Senate Armed Services Committee.
Crossman and his wife Lindsay have three children, Carson and Kaelynn and Madeline Quinn.
{loadnavigation}