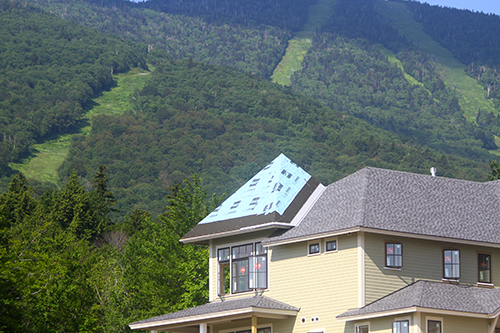 To walk into any of the six townhouses or nine flats at Sugarbush's new Rice Brook Residences is to be drawn immediately over to the windows, some of which are uncovered and some of which require peering through small slits in the protective plastic.
The Rice Brook Residences, under construction on a knoll between the beginner lift and the northern end of Sugarbush Village, offer a startlingly different and previously unavailable view of both The Valley and the slopes.
They are tucked up against the Out to Lunch Trail and architects Jeff Schoellkopf and Jim Edgcomb have managed to stagger the units and create nooks and corners within the units so that every unit has a unique and inviting view out to the ridge beyond and the slopes behind.
On a recent sunny, summer day the project was a beehive of activity with sheetrocking and trim going on in some units, exterior siding in others, wall framing in others. There must be at least three dozen people working up there along with many huge pieces of equipment.
The townhouses, which are all under contract, range in size from 2,000 square feet to 2,700 square feet. They have between three and five bedrooms and some have been customized by their owners to better suit their lifestyles or families.
The nine nearby flats range in size from 1,769 to 1,338 square feet. They all feature unique fenestration that maximizes the mountain and slope-side views relative to the unit's position in the complex. Underground parking serves the three-story townhouses and the single-story flats.
Many units have porches and balconies for hot tubs and outside space. Noteworthy are the flats at the northern edge of that complex that abut the brook and provide a sense (especially on the third floor) of being in a tree house with views to the ski slopes and the Northfield Ridge.
The units are being built with energy efficiency in mind and will have five-star energy ratings. They will be ski on/ski off and the flats have first-floor ski storage/gear lockers for each unit.
These 15 units are the first of three or four pods of residential development slated for the land between the Lincoln Peak parking lot and Sugarbush Village. This group is on the elevation of land lending them the views that make a visitor walk over to each window just to check out what trails can be seen or what angle the view offers of the Northfield Ridge.
Tours are available by stopping by the Farmhouse at the base of Lincoln Peak. It's worth it just to see the views!
{loadnavigation}