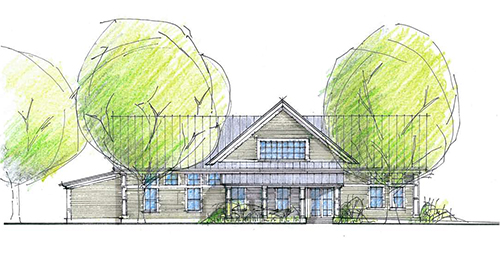 After many months of planning as well as voting, Waitsfield is ready to move forward with building new town offices on a parcel of land in the village.
Last week Waitsfield voters approved a bond authorizing the town to borrow up to $650,000 to be used with a $750,000 Community Development Block Grant to build on the Farm Stand parcel.
The vote was 71 percent to 29 percent, or 342-142, when voters cast ballots on October 22. This was the second time that that bond article was voted on because residents petitioned for a reconsideration of a July 30 vote when the article passed 309-209.
By statute, towns cannot vote on the same article more than twice in one calendar year so there can be no further voting on this article.
The next steps for the town include completing an environmental review of the project as well as getting a final design together. In September, the town appointed members of a Town Office Design Committee. The members include select board member Chris Pierson, Brian Neill, Corinthia Richards, Tom Buckowski, Peter Reynells and Bob Burley.
The town needs to have a design for the town offices before it can begin state and local permitting. The environmental review, which is under way now, could be wrapped up by spring, according to town administrator Valerie Capels. Capels said she is waiting for the Community Development Block Grant committee to meet to formally grant the town an extension on completing the environmental review. It was to have been completed by October 15, but the bond vote had not occurred.
The total projected cost of building the new town offices, including purchasing the land, is estimated at $1,203,787. With the $750,000 Community Development Block Grant and a recent gift of $100,000 earmarked for the purchase of the Farm Stand site, the taxpayer cost of building new town offices could be as low as $353,787.
Last month, Waitsfield was offered and accepted a gift of $100,000 to purchase the land for the town offices. The terms of the anonymous gift require that the money be used to buy the Farm Stand parcel and that the town must retain ownership of the parcel for at least 10 years.
At Town Meeting this year, voters rejected a more expensive version of the proposed town office bond. That article asked for $1.6 million to build town offices at the Farm Stand. That article was rejected 351 no to 229 yes. Waitsfield has 1,448 registered voters; 588 voted at Town Meeting, 518 voted on July 30 and 484 voted last week.
{loadnavigation}