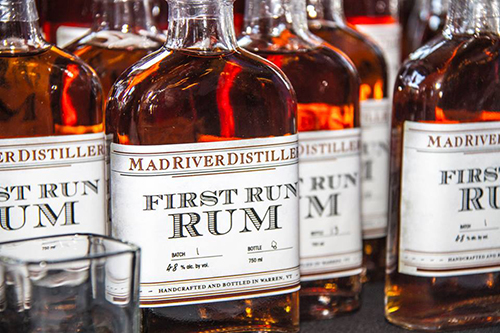 Mad River Distillers (MRD) First Run Rum is ready and is now in state liquor stores as well as Mehuron's Supermarket. The Warren-based distillery's First Run Rum is made from pure sugar, not molasses, and it's aged in American oak barrels. As a result, it is both smoother and more nuanced than many molasses-based rums which are often aged solely in used barrels. First Run Rum can be enjoyed in a cocktail, on the rocks or straight up like a sipping whiskey.
In honor of this release, Mad River Distillers will host a tasting at Mehuron's from 3 to 6 p.m. on Wednesday, November 27. In addition to the rum tasting, there will be cocktail recipes available and the founders will be there to talk about their project and the craft distilling movement in Vermont.
Mad River Distillers was organized over two years ago to create an artisanal micro-distillery at Cold Springs Farm, which is owned by John Egan and Maura Connolly.
Their partners are Brett Little, whose nose and command of the science has been key to the success of MRD's first releases, and Alex Hilton, who turned a dilapidated old horse barn into a beautiful, state-of-the-art craft distillery and now serves as the general manager.
Mad River Distillers is committed to creating handcrafted rum, whiskey and brandy using as much locally sourced products as possible. In addition to MRD's rum, there is also a corn whiskey made from 100 percent organic, heirloom Vermont corn, which is available at the distillery and should be on the shelves in the Vermont liquor stores in time for the holidays. Mad River is also producing rye and bourbon which will be released next year after spending some more time aging. And last month, Mad River pressed over three tons of heirloom Vermont apples for an apple brandy that will be released over the next few years.
Mad River Distillers is open for tastings and tours on Fridays and Saturdays from noon to 5 p.m. and by appointment. They can be reached at (802) 496-6973 or This email address is being protected from spambots. You need JavaScript enabled to view it..
{loadnavigation}