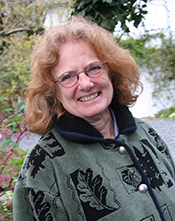 Ferris Buck, North Fayston, died peacefully at her home early Friday, March 29, 2019, shortly after suffering a stroke. Family and friends were by her side, and she was buried at the family home in a simple service, as she had requested. She was 78.
Ferris was born to Robert and Jean Pearsall Buck of Westfield, NJ, in 1940. As a young girl, she traveled extensively with her parents as her father was one of the pioneering pilots of TWA and author of the industry standard "Weather Flying."
Ferris married her first husband, Frank Urbanowski, in New Jersey in 1960 and blazed an early trail of progressive social norms while living in Manhattan, Los Angeles and Bucks County, PA, before settling in New Hampshire with their daughters, Alexandra and Tasha. She was one of the first women to practice and teach Lamaze in the United States.
She and Frank divorced in 1978 and Buck moved to Wildcat Hill, New Ipswich, NH, where she lived off the grid in a house she built while working as a psychotherapist and meditation teacher.
Ferris, who used her married name Urbanowski for much of her professional life, was an early practitioner of mindfulness meditation in the U.S. and, with Jon Kabat Zinn, helped develop Mindfulness Based Cognition Therapy at the Center for Mindfulness at the University of Massachusetts Medical School. She was an early student of Thich Nhat Hanh. She taught at many spiritual centers, universities and professional organizations here and abroad, including Tufts, Harvard, Pepperdine, the Omega Center, and in Wales, Canada and Denmark.
In 1999, she built a home on Smith Road in Fayston with her second husband, Ned Kelley, near the home her parents built in the 1970s and lived in until their deaths. She continued her national and international teaching and also began working in her local community and in Vermont teaching meditation, leading retreats and continued to write and publish scientific works on mediation. She and Kelley divorced in 2013.
Once in Vermont, she embraced her local community, establishing a close circle of friends and spiritual colleagues, meditators and outdoor enthusiasts. Following a series of benign brain tumors and several surgeries her eyesight faltered, and in 2016 she lost her sight completely. She continued to teach mindfulness, meditate with friends and spend much of her time with her daughters and granddaughters in Vermont, New Jersey and California while learning a new way of being without sight.
She is survived by her brother, Robert O. Buck of Waterbury and his wife Holly and son Christian and stepson Aaron; by her daughters, Alexandra and Tasha and their spouses John and Steve; and her granddaughters, Béa and Millicent.
A celebration of Ferris' life is planned for this summer in North Fayston. In lieu of gifts, donations may be made to the Mad River Valley Ambulance Service, P.O. Box 305, Waitsfield, VT 05573; 802-496-8888; This email address is being protected from spambots. You need JavaScript enabled to view it..