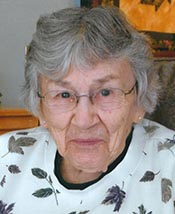 Verla C. Graves, 90, passed away at Mayo Rehabilitation Center in Northfield on Monday, May 6, 2019. Born in Warren on May 28, 1928, she was the daughter of the late Rollie P. and Veda (Hayes) Carter. Verla married Edwin F. Long, who predeceased her on December 7, 1952. She later married Bradlee B. Graves Sr., who predeceased her on November 29, 2016. They had celebrated 49 years of marriage.
Verla was a 1946 graduate of Waterbury High School. Following her marriage to Edwin, they co-owned and operated a grocery store in Warren Village for several years. Upon selling the business, they moved to Bass River, MA. Following, Edwin was inducted into the armed services and died while in service to his country. Returning to Vermont, Verla was employed as a clerk at the Children's Shop in Montpelier for several years. She returned to Boston, MA, to further her education and then worked as an accountant for the Sears, Roebuck and Co., first in Boston and then later in Brockton, MA, from which she retired after nearly 30 years of service.
Verla loved spending the spring, summer and fall following the travails and triumphs of the Boston Red Sox. She was known for her love of her favorite bird, the cardinal.
Verla is survived by her sisters, Sue Carter of Warren and Rosena Ward and her husband Kenneth of Barre; and her brother, Mervil E. Carter of Port Chester, NY. She had a very special relationship with her grandniece, Iris Carter of Barre. Also surviving is a stepdaughter, Brenda Lowell and her husband Thomas Jr. of Bridgewater, MA; a stepson, Bradlee B. Graves Jr. and his wife Deborah of Westerly, RI; two step-grandchildren, Bradlee Graves III and Lindsey Graves; as well as nieces, nephews and extended family. She was predeceased by a sister, Virginia Bagley, and a brother, Philip "Sonny" Carter.
Funeral services will be held from Perkins-Parker Funeral Home in Waterbury on Wednesday, May 15, 2019, at 1 p.m. Interment will follow in the Warren Village Cemetery. To send online condolences please visit www.perkinsparker.com.