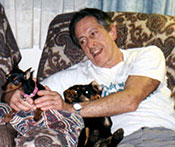 February 26, 1932 - June 30, 2021
The family of Anders Hengsteler Jr. of Dunnellon, Florida, is saddened to announce his passing on June 30 at the age of 89 years.
Andy will be lovingly remembered by his wife of 29 years Deanna Hengsteler as well as family and friends. Andy is survived by his daughter Patti Raymond of Camden, NY, and his stepdaughter Bonnie Dixon, whom he adored; grandchildren Aaron Kinder of Summerfield, FL, Amy Raymond of Moretown, VT, and James Raymond of Moretown, VT, and grandchild Lilly Raymond of Waterbury, VT.
He was predeceased by his son Michel Hengsteler, his daughter Lynn Kinder and his parents Ander and Pearl Hengsteler.
Andy was born in Buffalo, NY, in 1932 as a first-generation American citizen and was the only child of Anders and Pearl Hengsteler. Andy graduated from high school at Kenmore High School, NY, in 1949 and moved to Waitsfield, VT, with his father and mother shortly after graduating.
He and his father started a construction business and eventually constructed the first building specifically designed to lodge skiers. The lodge was named the Ski Center Lodge and was later changed to the Valley Inn years later. Andy and his family opened several businesses within the Waitsfield area to include opening the first motorcycle business within Waitsfield which was named Andy's Shop.
Andy retired in 1982 and moved to Ocala, FL, and later to Dunnellon where he resided for the last 27 years. Andy was well known for his work ethic and love of animals of all kinds.
Per Andy's request no service or memorial service will be held.