As with students throughout the Unites States, those in the Mad River Valley ended summer vacation and returned to school a few weeks ago, likely with a degree of reluctance. Though they understand the need for attending school, most would prefer an endless summer. Half a world away in Gurgaon, India, students also returned to school, but with anticipation and passion instead of reluctance. For these students, school is a place of joy and excitement. It is a place that offers them a respite from the challenges of their day-to-day village lives and some hope for a brighter future.
While visiting family in India during the summer of 2013, Harwood Union High School student Vikram Seethepalli volunteered for 10 days at a small, privately funded school near Delhi and had a profound experience. The students, who live in an impoverished village, in mud and straw huts without electricity or running water, look forward to school with anticipation. For them, attending school is a joyful experience, an escape from their squalid home lives, Seethepalli reported.
"Throughout the time I was there, every child came to school with a big smile on his or her face, ready to learn," said Seethepalli. "Although it was clear that these children had very little, they nevertheless had a positive attitude and a strong motivation to learn. I realized how privileged I am here in America, and I learned that how much one has does not determine how happy one is. This experience truly broadened my perspective of the world."
During his stay, Seethepalli taught English and enjoyed interacting with the young children. In his immersive experience, he cooked and ate with the teachers and slept at the school every night. While he expected only to learn how to teach children, he took away so much more.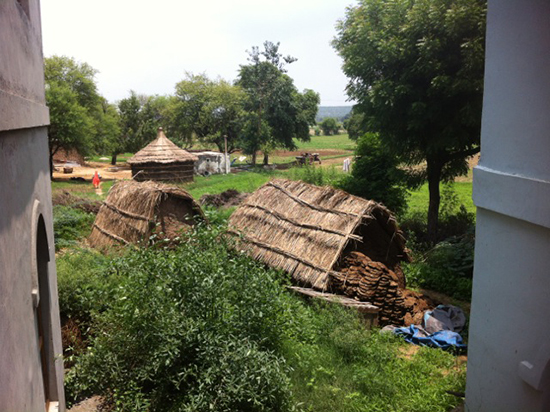 "I was able to completely get out of my 'comfort zone,'" he said. "I learned how to interact with the children. I persuaded the children to listen to me, to learn from me, to follow me. I learned how to hold their attention, so I could teach them. By this process, I believe I made a very positive impact on the school."
As he slept under mosquito netting at night and pushed through the unbearable heat during the day, he realized the challenges and difficulties that local people must endure every single day. He became aware of how lucky, how comfortable, how safe and how easy he has it in the U.S., and how halfway around the world, someone else is enduring more extreme heat, someone else is sleeping on the dirt ground and someone else is getting bitten by a malarial mosquito.
"The children at this school in no way based their willingness to learn on what they had or how big their houses were," he said. "I learned that how much one has need not determine how one acts, one's level of motivation to learn, or who one really is inside. These children changed my perspective of the world and changed my life."
The school, called Gairatpurbaas Panchayat School, was founded by Martin Howard, a British man who runs a small bed and breakfast in the same village. Howard believes the current Indian learning system, which focuses almost exclusively on memorization and achieving high exam marks, is not enough for these children. He runs the school under the Montessori system, which allows them to develop social skills and become independently confident. He also believes that learning English is crucial to the success of the children because the number of opportunities for better jobs increases if the children have a command of the English language. For that reason, in contrast to the public schools, English is the main spoken language at Gairatpurbaas School.
Howard's belief in the Montessori form of education and the importance of teaching English means the school does not qualify for state funding. For these reasons, he operates the school as a private nonprofit organization. He uses most of his income from the bed and breakfast to go toward funding the school. The rest is raised through private charitable donations.
"Throughout my stay at the school, Martin motivated and inspired me," said Seethepalli. "Here is a man who decided to create a school, completely of his own accord, to help educate children with mostly uneducated parents. He receives no profit from his great contribution to the village. Rather, he benefits from the good feeling of making a difference in the lives of others. He greatly contributes to the small village by providing a path to opportunity and success for its young children, whom he treats as his own. Martin's accomplishment and attitude toward supporting others has inspired me to make a contribution to his school."
Howard's intense passion to educate these children has prompted Seethepalli to try to raise a portion of the school's $70,000 annual budget. He has set a goal of raising $10,000, which would pay for the salary of five teachers. As an affirmation that he truly believes in this cause, Seethepalli is personally contributing $500 (30 percent of his summer job earnings) toward this effort.
He has been able to create a fund through the MP NRI Development Committee, a New York City-based 501(c)(3) charitable organization focused on education in India. All donations to the fund are tax-deductible and will be channeled directly to the Gairatpurbaas Panchayat School. Checks can be written to MP NRI Development Committee Inc., with "Vikram Seethepalli India Project" in the memo line. Donations should be mailed to MP NRI Development Committee, Attn: Rajeev Kaul, 303 Fifth Ave., Suite 1608, New York, NY 10016. For more information about the school, please view this short video: www.youtube.com/watch?v=_3w1EpRt3gk.
"As a young person, I know that I cannot do a lot, but I am confident that my goal, if achieved, will contribute toward the success of the children at the school," Seethepalli said. "I sincerely hope that you will join me in supporting this cause. Any contribution, small or large, will be greatly appreciated. Your support will aid the school, the nearby community, and ultimately lead the children to better lives."
{loadnavigation}