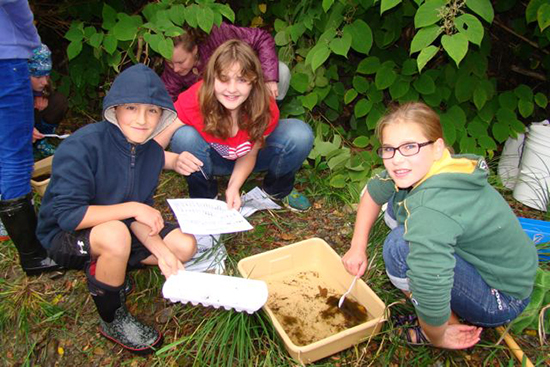 Waitsfield Elementary School fifth- and sixth-graders give the Mad River a clean bill of health. They joined forces last week with Friends of the Mad River (FMR) to assess the Mad River behind their school.
After a classroom period with Corrie Miller, FMR director, students braved the chilly September morning and searched the river for benthic macroinvertebrates. These insects that inhabit the river bottom are an important link in the aquatic food web; their species composition and diversity in the river gives a good indication of its health.
Between shouts of "I've got a crayfish!" and "Eww, look at this!" students found countless caddisflies, mayflies and stoneflies – species that are sensitive to environmental changes and are one sign of a healthy river.
They gathered data which they graphed and interpreted back in the classroom. In her science journal, one student asserted, "Our part of the Mad River is healthy. We found many pollution sensitive species and a few from other groups. This means we have a healthy balance of all species."
For more information about Friends of the Mad River, visit the website at www.FriendsoftheMadRiver.org.
{loadnavigation}