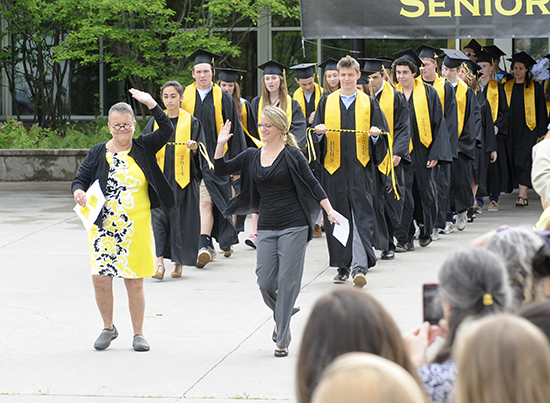 Harwood Union High School held commencement exercises on the lawn at the high school on June 14. Led by class marshals from the Class of 2015, Chase Fortier and Brin Schoellkopf, 148 graduates marched in to "Pomp and Circumstance" by the Harwood Jazz Band directed by Chris Rivers.
Commencement speaker for the Class of 2014 was Rusty DeWees. Valedictorian Richard Hommel and salutatorian Nathaniel Kazlow addressed their classmates.
The Class of 2014:
Riley Andrew Abair, Lauren Melissa Alexander, *Zoe Talbott Alves, Tyler Brandon Atwood, Haley Moriah Grace Aylward, Andrew Blair Baird, Jeffery Scott Connor Barker, John Barnett, *Anna-Marika Gustafson Bauer, Christian Emerson Becker, Morgan Jane Becker, Daniel Alan Beede, *Alexandra Kaitlin Behn, Cellia Raven Bjornlund, Abigail Lynn Borthwick, Jenna S. Boudreau, *Clio Caroline Briggs;
Hunter Burfoot, *Mia Hunter Burfoot, Peyton Wren Burr, Daniel Thomas Burrows, *Grace Kelton Butler, Brian Chambers Cahalan, *Ethan Michael Carr, Francisco Cervantes, Nina Lowrie Cavender, Kaylee Lynn Champney, *Lane Keith Clark, *Haley Elizabeth Cleary, Olivia Amber Coates, Logan S. Coles, Adam Michael Commo, Taylor Fawn Commo, Maya Candace Cormier;
Siena J. Damon, *Marla Jean Davidson, Faith Victoria DeFelice, Grace Taylor DeFelice, Kathleen Ann DeFreest, Brennan Douglas Degen, Gianna Noelle DeJong-Kaiser, Ty Parker Delphia, Cole Christopher Derrick, Michelle Elizabeth Doney, Betsy Florence Dooley, Bridget Dow, Taylor Lisa Dowsey, Katherine Durand;
*Maxwell Craig Eilers, Alicia Lea Evans, Britney Ann Evans, *Noah Vimal Evans, *Mimmina A. Ewald, Kelsey Ferris, *Matthew Gerald Fischer, Nathan Chisholm Franzeim, Joseph Richard Gates, Paige Elizabeth Gaylord, Michael Thomas Gibbs II, Brent Michael Irvin Gillam, Christianna Devin Gomez, *Amy Louise Graham, Justin Earl Griffith, Dakota Sid Griswold, *Ethan David Griswold;
James A. Hack, *Timothy Mather Harris III, *India Dow Harvey, *Markus Fischer Helmken, *Katherine Taylor Higgins, Eliza Mary Hill, Evan Karl Hoffman, *Richard Jordan Hommel, *Sarah Marie Hoyne, Jacob Alexander Humphreys, Zachary Michael Humphreys, Tony Appollo Ioannidis, Patrick McCreery Jackson, Liesbeth Jacobs, Sienna Mia Jean, Thomas William Johnson, Zachary M. Johnson, *Geoffrey Hunter Kazlow, *Nathaniel Hunter Kazlow, Victoria Lynn Keene, *Caleb Bryce Lindberg Kessler, David King;
*Nicholas Scott Lamson, *Benjamin Bourne Laskaris, David C. Levin-Walker, Rebekah Alison Lovely, Eamon Joseph Lyons, Christian Thomas Macarilla, Dylan James MacIsaac, Katlyn Marie Martin, Cheyanne Michaela Martin-Evans, Tyler John McCullough, Kathryn Ashley McNeish, Cooper C. Miller, Carolynn Jae Mireault, *Elizabeth Morehouse, *Dominic Joseph Moreno, Matthew Dillon Moulton;
Naomi Melodie River Noël, Madison Campbell Noyes, *Shelby Quinn Parette, Kaegan I. Pearsall, Thomas Paul Peck, Thibault Melaine Pelhate, Megan Renee Perry, Harley Star Pierce, Tristan Ray Pierce, Kara Pilarcik, Mackenzie Nancy Ramsdell, Eleanor Katherine Ramsey, John Morgan Randolph, *Sophie Alexander Rayfield, Corey James Remick, Mariah Lynn Richardson, Emma Katherine Rivers, *Katherine MacAulay Robinson;
Lloyd Ronald Joseph Rollins, Lucas Wayne Russell, Nathan Gottfried Russell, Cassandra Lee Ryan, Kenneth Eugene Sherman, Siemen Wade Smidt, *August Robert Patrick Stevens, Damian Jacob Sumner, *Rebecca Lee Thompson, Taylor C. Tighe, Reliance Soule Touchette, Tucker J. Touchette, Jack Towne;
Jannaka Brooke Gamba Walker, Michael C. Walluck, Zachary George Wenneberg-Smith, Tyler H. Weston, *Wade E. Whitney, Ira H. Wickwire-George, Nicholas Mischa Wilson, *Eli James Winters, Kira Samantha Wollensak, *Alice Catherine Woodruff, Wojciech Wyszomirski, Taylor Nicole Yandow, *Benjamin Albert Ziemke.
*Valedictory Group
National Honor Society Member
{loadnavigation}