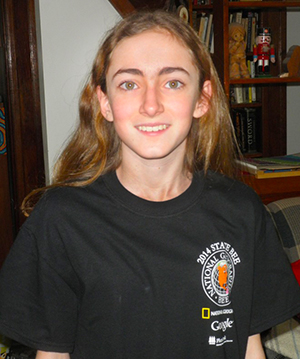 Harwood Union eighth-grader Erin Magill of Moretown finished tied for sixth place in the State Geographic Bee on Friday, April 4. "My goal was not to be eliminated in the first round," she said. "So I way exceeded my expectations."
The Geographic Bee, held on the campus of Middlebury College, is put on by National Geographic Magazine. The winner, Nick Norton of Essex Middle School, receives an all-expenses-paid trip to Washington, DC, to compete in the National Geography Bee on May 21.
Questions that Magill answered started relatively easy, "Which state gets more rainfall, Wyoming or Missouri?" (Missouri), and got harder as they went along, "What is the largest city in Uruguay?" (Montevideo).
At the end of a preliminary round of eight questions, Magill had seven correct, qualifying her for a tie-breaker round to determine who would be in the final. She made it into the final when she correctly identified South America as the continent north of the Scotia Plate.
In the finals, she correctly answered several questions, including "Whirlpool Canyon is south of the High Uinta Mountains in what state?" (Utah). She was finally tripped up when she failed to identify the Bay of Fundy on a map of Canada as the place with the highest fluctuation of tides.
"I thought they asked about the highest fluctuation of temperature, so I just made a guess. But that's OK, because I would have missed the next question about the Sea of Azov anyway," she said.
{loadnavigation}