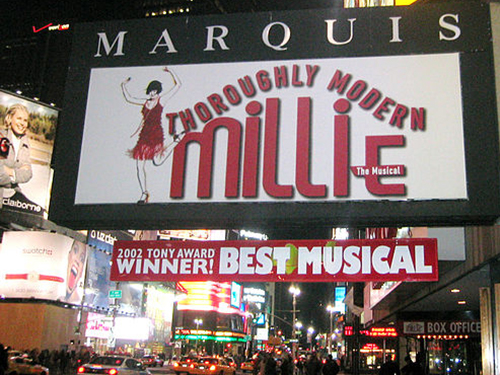 When people come to see Harwood's spring musical, Thoroughly Modern Millie, this weekend, they're coming to see Millie find her place in 1920s Manhattan while a bitter failed actress plots to send girls like her into slavery in Asia. What most people won't be considering is everything happening just out of sight, in the wings.

For the first two and a half months of rehearsal, the focus is on the cast. We block scenes, choreograph dance numbers and rehearse the music until the singers just about lose their voices. Then, the week before the show opens, the crew puts everything together to make the actors look as amazing as possible.

During the 20 hours of tech rehearsals from Monday to Wednesday, the lights are set and recorded and the sound effects are finally incorporated. The set pieces are finished and carefully arranged in the wings so they can be moved efficiently. Because two characters speak in Chinese in the play, a system for superscripts has to be created and perfected.

Once everything is actually set up, getting it all to run smoothly is a whole new issue. While you, the audience, watch a fun musical number, I, the stage manager, am just offstage in the wings, constantly calling light cues through the headset to the light booth and the two people running spotlights. My crew backstage runs around, avoiding being seen, to make sure every scene change is organized and the set pieces are where they're supposed to be. There is no time to rest because every second there is a cue to be called, a cue to be warned, a curtain to open or close, a set to change, a prop to move, or an actor who has a problem.

When you come see the show, appreciate the incredible talent on stage, but also take a moment to imagine all that's happening just a few feet away. The actors give life to the story; we give life to the show.


{loadnavigation}