Harwood Union High School Class of 2016 received their diplomas on Saturday, June 11. Seniors listened to speeches by Tedin Lange, the chosen commencement speaker, and senior speeches by classmates Ben Read and Anna Van Dine. Diplomas were presented by David Goodman, vice chair, Harwood School Board; Brigid Scheffert Nease, superintendent; Lisa Atwood, co-principal; and Amy Rex, co-principal. The list of graduates follows:
Nazhiya Abdullayeva, Devon Elijah Abner, Josie Winter Allison, *Quincy Alves, Callie Alexandra Anderson, Hannah Lynne Austin, Matthew Leo Austin, Lucie Rose Banevicius, Brooke Jolaine Barup, Omar Muneer Batah, Ethan W. Beard, Iara Beldade, *Anna Caroline Belongia, Emily C. Berlan, Samuel Dana Bordeaux, ~Sarah Cingiser Brodeur, Zachary James Brown, +Nina R. Brundage, Benjamin Jon Burr.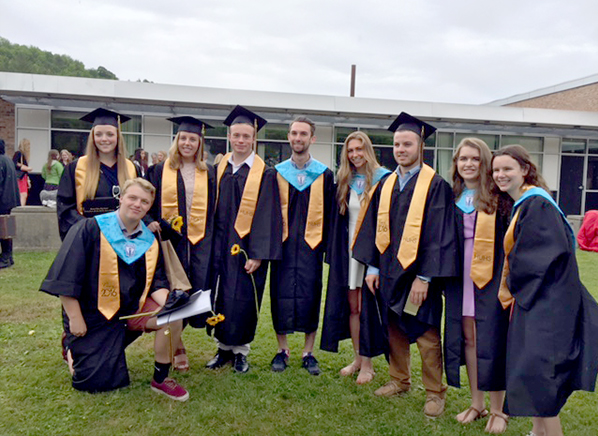 Grace Davis Cavender, Deirdre Lorraine Charles, Cameron Mathew Clark, Grant Jason Clark, Kristi Ann Clark, Enzo Cormier, James Griffin Crafts, +Aurora Cunningham, ~Madison Rose D'Amico, Cory Robert Dalsimer, +Kyle Hunter Dash, Connor Michael Delaney, Maggie Anne Delaney, Aaron Scott Elliott, +Chloe Marie Emler, Kyle Joesph Farnham, Shane Dayton Fekert, Benjamin Friedman, Sophy Alexis Furlong, Briana Emily Gibbs, Paul Michael Gibson, Taggert Austin Gile, Matthew Joseph Greene, ~Olivia Katherine Greenleaf, Megan Ferris Gresham, +Jacqueline S. Greshin, Skyler M. Griffith.
Trevor Andrew Hallam, ~Kaleigh Marie Hamel, Brandon Taylor Hamilton, +Jarek A. Hammerl, Alexandra Flynn Harris, Isabella Ray Harris, Philip Roland Hekeler, Emma Reilly Helmken, ~David M. Howes, +Caleb Thomas Hoyne, Shudder Luc Hurd-Burnell, Luna Jessica Isham, C. Ethan Isvak, Kyle Steven Jasinski, ~Emma Elizabeth Jean, Mengqi Jia, Hayden Barbour Jones, +Maya J. Kalkstein, +Zoe Isabella Kravitz, Sawyer Joel Ladensack, ~Cole Michael Lavoie, Eli Asher Leppla, Gus Marshall Lockett, Madeleine Lennox Lowe.
Caitlyn Jadzia Marino, *Lily Pauline Martin, +Meridith Alice Martin, Madeline E. McGeorge, Samuel Francis McGinty, Trevor Barry McNeish, +Aenea Chase Mead, Mattathias Meade, Parker James Merchant, Haris Mesic, Whitney R. Michaud, ~Sophia Ashton Fasnet Minter, *Jacquelyn Elizabeth Morano, Isobel Ross Morton, Jacob T. Nielsen, Shelby Scott Nolan, +Nathan E. Palmerio, Amanda Parks, Brendan Jeffrey Perry, Samuel James Perry, Karl Ryan Peterson, River Jeffrey Ploof, Amber Ann Marie Proteau, Keagan R. Puffer, Malcolm Lewis Purinton.
Matthew Daniel Ranew, Joseph L. Raymond, ~Ben Read, Christopher James Riley, Jacob Christian Roberts, ~Harrison Michael Russell, Rebecca Storm Russell, Emma Elizabeth Russo, Cole B. Rutledge, Megan Elissa Sargent, Nina Rose Sklar, Fiona Grace Smith, Nathan Alexander Stanley, Cormac Peter Stevens, Travis T. Streeter, Ashley Lok Yan Tang, Tyler J. Tierson, Dean Edward Touchette, Emily M. Twitchell-Wood, *Anna Snowden Van Dine, Monica J. Van Schaick.
+Morgan Elizabeth Vasseur, Clayton Michael Wells, Elijah Egmont Wennberg-Smith, Lucas Scott Whitaker, Olivia Marion Wickwire-George, *Alexa Kay Widschwenter, Curtis Waterman Wilcox, Lucas Gardner Williams, +Olivia Eileen Wimble, +Mercedes Grace Woolley and Mallory Patricia Wright.
*Summa Cum Laude group – 4.21 GPA and higher; +Magna Cum Laude group – 4.08-4.20 GPA; ~Cum Laude group – 3.84-4.07 GPA; National Honor Society member.