With Chris Rivers, head of Harwood Union's music department, and Bruce Sklar, the school's long time jazz band teacher/director, retiring from the school with over 60 years of combined experience, The Valley Reporter reached out to some school alumni for their thoughts and reflections.
Waterbury Center native Josh Bruneau is a 2006 graduate of Harwood and was a longtime student of Sklar's. He's a trumpeter.
"My life as I know it simply would not have been possible without being under Bruce's guidance and influence. He equipped me with not only outstanding musical knowledge but the life skills needed to pursue such endeavors. He made sure to bring me into the fold around musicians much more seasoned than my pre-adolescent and then adolescent self and gave sage advice while providing the "on-the-job training" that any musician worth their salt crave!" Bruneau said.
"I'm so happy to have seen how Bruce and his subsequent generations of musicians kept the program not only thriving, but also evolving into the program that continues to turn out unbelievable talent in our small corner of the globe. I'm selfishly happy that he'll have more time to play music with me in the future as he is also one of my favorite pianists and composers I've had the pleasure of working with," he added.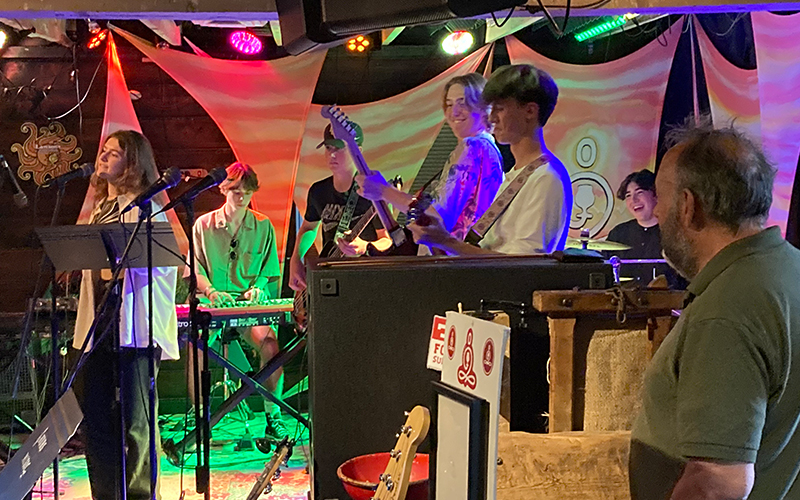 Chloe Riven is a 2017 graduate of Harwood and a student of both Rivers and Sklar. She's now in graduate school but her musical history informs her life professionally and personally. A clarinet player, she is in her final year of working on a masters of science in social work, specializing in end-of-life care, aging and gerontology.
"A large part of what I do in the health care field is working with dying patients and grieving family members. Since Chris and Bruce were so inspiring throughout my time at Harwood, I prioritize making music accessible to clients, especially since music heals," Riven said.
"The lesson Bruce taught me is to genuinely love what you do, as it will always bring you comfort, happiness and satisfaction. What I admire about Chris is that he believed in me and has cheered me on every step of the way, always communicating and checking in -- particularly when it came to auditions for the New England Music Festivals and Winooski Valley. I held myself to a high standard, and so did he. Chris was a firm believer in not letting his students settle for less," she continued.
Duxbury native Michael Hardin is a pianist who graduated in 2007. He was a student of Sklar's from middle school until he graduated. He met Sklar at summer jazz camps and right before ninth grade began taking private lessons with him.
"One thing I always appreciated about Bruce as a mentor was how invested he was in helping us achieve the success we wanted. As my piano teacher he was focused on helping me figure out how to sound the way I was trying to sound, to help me find the best version of my own voice. And we always knew he was passionately in our corner whenever we tried out for local and state competitions. He was loyal to us, which inspired us to be loyal to him," Hardin said.
Chris Barosky, a Waitsfield native and 2007 Harwood graduate, was a self-taught bassist until Sklar overheard him playing in middle school and encouraged him to take lessons and join school ensembles.
"On a foundation of camaraderie, fostered by every rehearsal and concert Bruce led, I began developing a passion for the artistic process. Bruce gave us all space to be kids, while holding us accountable to the highest of potential," Barosky recalled.
"While after graduation we went in separate directions, some of us continued expressing our art, sometimes even together. For my part, I have had the privilege of performing with internationally-acclaimed and Grammy-winning musicians, touring in Latin America, teaching young bass players, and even gigging with Bruce himself. It all started at Harwood. Though his retirement marks the end of an era, Bruce's impacts will most certainly resonate into the future and into the world. They already have," he added.
"They were so influential in creating such an amazing program I was able to take advantage of," said Dan Liptak, now band teacher at Crossett Brook Middle School and a native of Moretown and 2005 Harwood graduate. He is a woodwinds player.
"It gave me a place I could thrive. I would not have become a music teacher if it were not for the two of them." He noted he's had the pleasure of working with both Rivers and Sklar over the last decade in his role in the district and they continue to influence his work. "Have a very high standard of the quality of music you make. When you do your best musically, you do your best personally. They helped me as a performer and a teacher. I appreciate everything they've done."
Harwood's musical alumni and other musicians will gather at the school auditorium for a final jazz night on February 9, 2023, from 7 to 9 p.m.