Harwood boys' hockey was successful in every way in their 7-1 rout of U-32 on Wednesday, December 20.
"That's more the style we can play if we show up for three periods," Harwood's head coach Dave Morse said.
After keeping the scoreline even through the first period and a half, U-32 let the game get away from them. Rather, the Highlanders took control of it.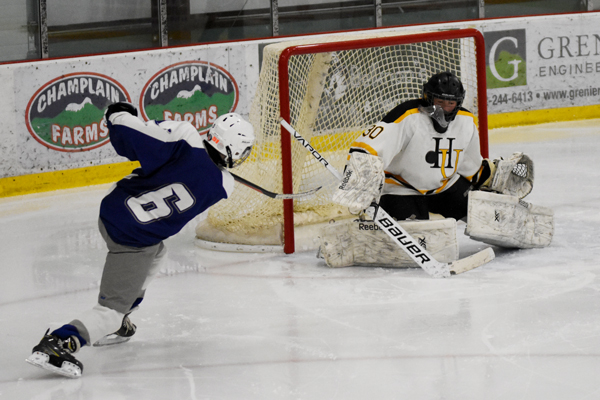 Harwood's senior captain, Colin Green, netted two goals in the final eight seconds of the second period to put the Highlanders up 4-1 heading into the second intermission.
Morse told the team not to let up though, because anything can happen in hockey, especially if U-32 managed to get the next goal.
The Raiders did score again, however, and Harwood's offense continued to dominate. Reese Anderson overpowered U-32's net minder Ryan Hynes with a blistering slap shot from just below the blue line. Hynes blocked it but it rebounded over his shoulder and into the net.
Hunter Wimble, who scored the Highlanders' first two goals in the second period, finished the hat trick with a power-play goal.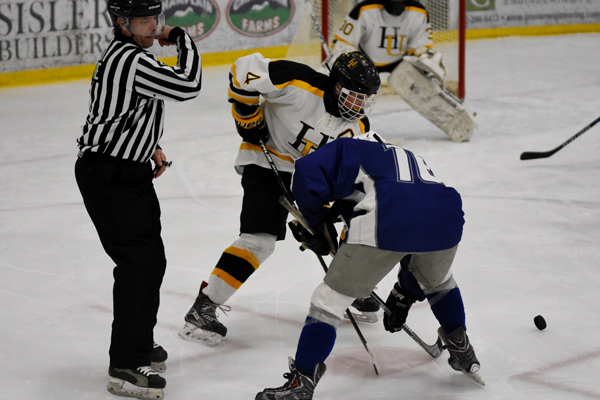 A week ago, after the Highlanders' loss to MVU, Morse said that he wanted Wimble to be a little bit more selfish with the puck, taking more shots rather than giving them to teammates. Wimble took Morse's advice and with new line mates it seemed to pay off.
"We feel like we really stepped up our lines by putting [Jacob Cantwell and Hunter Wimble] together," Morse said.
Morse explained that Cantwell is a strong forechecker and when paired with Wimble, the line gets more scoring opportunities.
Harwood's defense was able to stop most shots before getting to goalie, Ben Hodziewich. Morse said that team defense has been prioritized from day one.
"We're not going to score seven or six goals a game normally, so we're trying to limit the other team to two goals a game," Morse said.
As powerful as the Highlanders' offense was on Wednesday night, it could get even stronger if Erik Zeidens capitalizes on his breakaway chances.
Zeidens scored the final goal of the game, during a power play, but Morse believes he could get the most chances to score of anyone on the team. Morse said that Zeidens might be the fastest skater he has coached over the past 19 years.
"We're trying to get him, once he breaks free, to slow down and just pick a corner," Morse said.