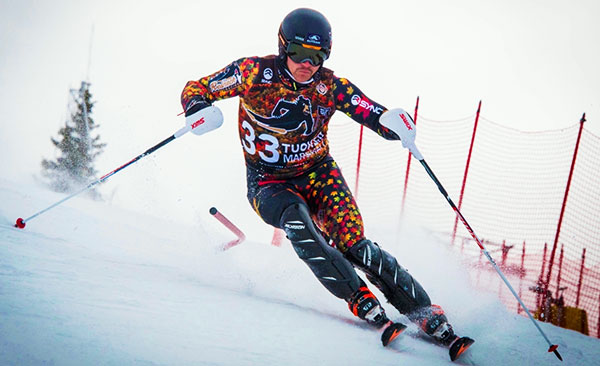 Vermont's Eliteam Conditioning Camps, Fayston, has partnered with one of the state's top alpine ski racers. Eliteam announced today that it has signed a sponsorship agreement with nationally ranked slalom skier and Redneck Racing athlete Tucker Marshall.
A native of Pittsfield, Marshall is a slalom specialist competing on the FIS and NorAm circuits all over North America. He is also part of the Redneck Racing team and trains alongside teammates Robby Kelley and Julia Ford. Marshall most recently came back from the NorAm races in Panorama, BC, where he collected two top-five results, bringing him into eighth position in the overall slalom standings.
"Eliteam is psyched to have such a committed and focused competitor join our team," said Doug Lewis, a world championship medalist and founder of Eliteam, LLC. "Tucker has worked with Eliteam in the past and has shown his dedication to fitness as well as his positive attitude which embodies what we strive for at Eliteam. When presented with a challenge, he is one of those athletes that always says, 'Bring it on!' and attacks it with 100 percent intensity."
Marshall will wear the Eliteam logo on his helmet during training and racing as he competes across the country. He will also be contributing to the Eliteam website with blogs and videos that cover his experiences as he pursues his ski racing dreams. His posts will cover a wide range of topics including mental toughness, training advice and nutrition tips while exploring the athlete's world of pushing limits, digging deep and working hard – all themes that Eliteam teaches its athletes.
"It is an honor for me to work hand in hand with such a renowned program. Eliteam is an amazing platform where athletes get the opportunity to grow and develop crucial skills involved in our sport while in a fun environment. Doug has been a fixture in my life throughout my upbringing at Green Mountain Valley School where he worked closely with the school. I can only hope to represent Eliteam in a positive manor in order to help imbue the next generation of skiers with the same passion and dedication I obtained from his example and others growing up," Marshall said.
Marshall hopes to launch into one of the top two North American spots by the end of the season, guaranteeing himself World Cup starts the following winter. Currently he is less than 100 points, or one win, away. During the off season Marshall follows his "Redneck regimen" of mostly outdoor training by either running up mountains or lifting weights at the Cochran family's "Field of Excellence." He has competed in two marathons as well as a Spartan Ultra Beast, a 28-mile obstacle race course. You can follow his progress, stories and results on his personal website, www.tuckermarshall.com.
Eliteam begins its 27th year of educating and inspiring young athletes with six camps scheduled this summer. Registration opens January 15 online. In addition to the four camps scheduled in Vermont at the Green Mountain Valley School ski academy, Eliteam will also be offering a Girls Power Camp in Park City and a two-day clinic held at Sugar Bowl Academy in Tahoe, CA. For more information about Eliteam go to www.eliteam.com.