Boys' Hockey
Harwood 1, Hartford 0
Boys' hockey was on the road against Hartford on Wednesday, January 30, in what would be a close game win in Harwood's favor.
The game-winning lone goal was scored by freshman defender Jake Green at 14:08 of the second period. Green was assisted by senior captain Jake Wells and line mate Skylar Platt. Harwood goaltender Sean Russell had 22 saves for Harwood and Ross McFate for Hartford had 21.
Colchester 5, Harwood 3
Harwood was on the road against Colchester on Monday, February 4. Colchester came out strong in the first, scoring three out of their five goals. Robby Rassle scored with 3:28 left in the first period. Andy Rosato scored a minute later to give Colchester a 2-0 lead. Fourteen seconds later Will Spencer made it 3-0.
Harwood found their groove in the second when Skylar Platt scored an unassisted goal at 9:33. With 1:08 left in the period Harwood's Jonathan O'Brien scored from Stefan Davis and Luke Spaulding to make it 3-2.
Cameron Rolston scored for Colchester with 9:56 remaining in the third. Skylar Platt scored on a power play assisted by Jake Green and Tyson Sylvia with 1:46 remaining to get Harwood within one again, but Colchester's Chase Carey scored 0.36 second later in an empty net to make it 5-3.
Liam Guyette had 36 saves for Harwood and Sam Fath had 15 for saves for Colchester.
Harrison Wheeler taking a slap shot.
Gymnastics
The Harwood Highlanders gymnastics team hosted South Burlington High School on Friday, February 1, at Central VT Gymnastics Academy. Traveling independent Ellisa Winchell traveled with Harwood.
On vault, Harwood's Lynn Russell placed first with 7.8, with Ellisa Winchellwas second with 7.5, and South Burlington's Sydnie Dougherty in third with 6.8.
Bars had South Burlington's Diane Gregoire first with 7.5, Winchell second with 6.2 and Russell third with 5.9.
Beam had South Burlington's Cece Leduc first with 7.0, Stowe's Winchell taking second with 6.9, and Russell taking third with 6.5.
On floor, South Burlington took first and second. Gregoire placed first with 7.6, Sydnie Dougherty second with 7.5, and Russell third with 7.0.
All around Lynn Russell took first place with 27.2, Stowe's Ellisa Winchell placed second with 26.95, and South Burlington's Cece Leduc placed third with 25.0. South Burlington's team score was 98.6.
Girls' Hockey
Harwood 4, Burr & Burton 2
On Wednesday, January 30, the girls' hockey team traveled away to face Burr & Burton Academy where they would win 4-2. April Tousignant, Hailey Brickey, Kailie French and Lilianna Ziedins scored.
Harwood 2, CVU 3
Harwood traveled to Cairns Arena in Burlington to play CVU in a game that would result in an overtime loss. April Tousignant and Erica Dow scored for the Highlanders.
"We were two goals down going into the third period versus CVU. The kids played the best period of the year and really did extremely well in the third. I feel the team has bonded well and is ready for the rest of the season," said head coach Mike Vasseur.
Wrestling
"This weekend the Harwood wrestlers competed very well. The two middle school wrestlers both placed: Will Rush, our 75-pounder, took third and Alex Lord, our 160-pounder, took first. Our high school wrestlers all wrestled hard, whistle to whistle, with the level of aggression and confidence that is needed this time of year as we get closer to states," said head coach Casey Moulton.
 Harwood had two high school wrestlers place – Alan Clark at 145 pounds took fourth and Sully O' Hara at 170 pounds took second. Moulton's team also walked away with the Sportsmanship Award.
Girls' Basketball
Harwood 40, Lyndon 39
Harwood girls played Lyndon on Thursday, January 31, in a close game that had Harwood squeak by with a win. Mia Cooper had 16 points, 14 rebounds and four blocked shots. Ashley Proteau had seven points.
After being beat by Lyndon earlier in the season, Harwood was able to pull together for a strong defensive game.
Harwood 40, Oxbow 28
Coming off a win, Harwood kicked into gear at home against Oxbow on Saturday, February 2, for another win. Mia Cooper had 24 points, 14 rebounds and five blocked shots. Proteau had seven points.
"It was nice to see them play a physical team and not back down," said head coach Tom Young.
Harwood 42, U-32 48
After a two-game winning streak, Harwood went into overtime against U-32 on the road on Monday, February 4.
Harwood had two starters out with concussions to start the game but was able to keep the game close. Harwood, trailing by 10 points into the fourth quarter, hit another bump in the game as two more starters fouled out. Head coach Tom Young said that his team never gave up. Cameron Ravelin had nine points, Tanum Nelson has seven points, and Ashley Proteau had nine points. "Those three girls led a charge in the fourth quarter. It was nice to see two freshmen and sophomores take over the game," said Young.
Harwood's seated seventh in current standings with a 10-5 record. The girls will play again on Thursday, February 7, home against Lamoille at 7 p.m.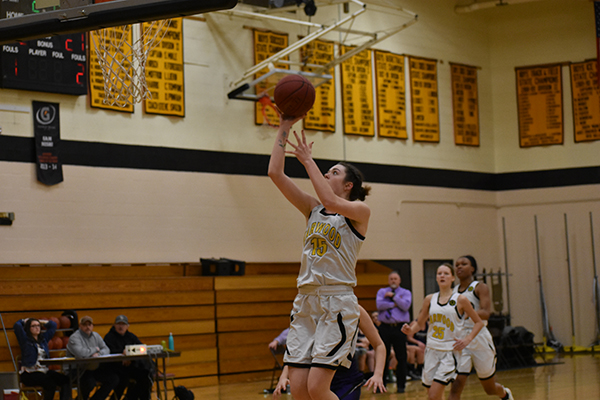 Mia Cooper against Oxbow.
Boys' Basketball
Thetford 56, HUHS 41
Harwood played Thetford on Friday, February 1, their fourth game in seven days. Leading scorers for the game were Jasper Koliba with nine points, Charlie Zschau with eight, Will Lapointe with seven and Andrew Proteau with seven points.
Peoples 46, HUHS 33
"We actually held Peoples to two fewer points than the first time we played them – and beat them in their gym – but we couldn't find our shooting touch all night long. As a team, we shot only 27 percent from the floor," said head coach Mike Woods.
Leading scorers for the game were Jasper Koliba with nine points, Charlie Zschau with eight and Andrew Proteau with seven.