Boys' Ice Hockey
Harwood 3, MVU 6
Harwood boys' hockey hosted Missisquoi on Saturday, February 9, at the Ice Center of Washington West in Waterbury for a game resulting in a Highlander loss.
In the opening minutes Harwood's Skylar Platt scored and was assisted by line mates Gavin Thomsen and Jake Green. MVU scored their next five goals in the first giving them the 5-1 lead. MVU started their streak at 5:26 with a goal by Hunter Mason assisted by Braylen Parent. Half a minute later at 5:55 Mason was assisted again by Parent and by Charlie Gates.
At 7:37, Parent scored on his own, assisted by Ryan LaRoche and Joel Gagne. Roughly three minutes later Parent scored again assisted by Jackson Porter. Joel Gagne would find the net again as he was assisted by Steven King and Mason Lemnah.
Harwood's Jake Wells was able to find the back of the net, assisted by Jake Green and Skylar Platt 0.22 second into the second period. MVU scored later in the period by Joel Gagne assisted by PJ Bouchard.
In the third, Harwood was able to tally another on the board but would be the last as Jake Cantwell was assisted by Jonathan O'Brien and Gavin Thomsen 0.35 second into the period.
Sean Russell had 45 saves for Harwood and PJ Bouchard had 20 for MVU.
Girls' Ice Hockey
Harwood 0, Missisquoi 4
The Harwood girls' varsity team traveled on Saturday, February 9, to play Missisquoi. Harwood head coach Mike Vasseur said that his team did not really get off the bus ready to play, but when they got in the groove they played very well.
Harwood 0, Stowe 1
On Monday, February 11, the girls traveled to play against rival neighbor Stowe.
The game was a duel till the final minutes when the Stowe Raiders were able to find the back of the net in the remaining three minutes of the third, leaving little time for the Highlanders to rebound. Vasseur said that his team played a very good game, but scoring still seems to be a challenge for them.
"The last part of the season is going to be very intense as we have a couple of games to make up because of all the weather challenges. We might have three games a week," said Vasseur.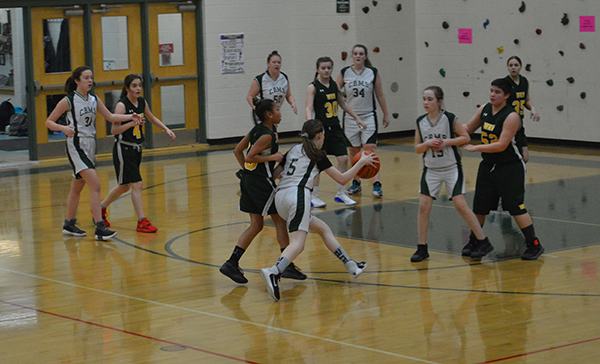 Girls' Basketball
Harwood 54, Lamoille 34
The Harwood girls' varsity team hosted Lamoille on Thursday, February 7, in a game that would have Lamoille first leading, with the Highlanders finishing strong.
At the end of the first quarter, Lamoille was leading 12-7, but Harwood was able to regain the lead by halftime 22-18. In the third, both teams were able to reach 30 points, Lamoille trailing Harwood by seven points. Harwood broke out in the fourth furthering the distance and finishing strong, with a final score of 54-34. Highlander Ashley Proteau had 13 points, Tanum Nelson had 10 points, Mia Cooper had nine points and 10 rebounds and Peyton Lanphear had seven points.
"We were looking to avenge a loss from earlier in the year. These two teams were locked up in a seedings race for playoffs so it was a big game. Our defense in the second half really locked down and we held them to three points in the final quarter," said head coach Tom Young.
Harwood 41, Randolph 24
The Highlanders were on the road February 9 to face off against Randolph. After a tied first half, the Highlanders were able to keep the lead.
In the second quarter, Harwood was up 15-8. A lead that would only get bigger after the third when Randolph trailed by 15 points. In the fourth the Highlanders sealed the deal at 41-24. Mia Cooper had 12 points and 13 rebounds, Peyton Lanphear had eight points, Emma Ravelin scored seven points, Ashleigh Proteau was credited with three points and 10 rebounds and Ella Gannon gathered two points and 10 rebounds.
"Randolph entered the game ranked No. 3 in Division II. We knew it was a big road game and it is always a tough place to play. The gym was packed and we had a good contingent of cheering fans travel south for the game. They were our sixth man on the floor throughout the game. Our defense was superb and we forced Randolph to rush a lot of shots. We held them to 10 points through three quarters," said Young.
Skiing
Harwood had two top-10 finishers in their joined hosted meet with U-32 at Mad River Glen on Saturday, February 9. First-place finisher Rex Rubinstein finished his first run with a 28.83 time and his second run of 30.08 for a total of 58.91.
Harwood's 10th-place finisher, Adrian Clapp, completed his first run with a 33.37 time and had a 32.79 time on his second for a combined 1:06.16.
Harwood/U-32 dual panel slalom race had six HU students finish in the top 10.
In first place was Gretchen Kogut with a 31. 53 first run and 31.97 second, for a combined time of 1:03.50. Aliza Jernigan came in third with 32.29 and 32.17 for a combined of 1:04.46. In fifth place, Kelly Tynan finished with a first run of 33.12 and then 34.21 for a time of 1:07.33.
In eighth, Laili Iskandarova had a combined time of 1:08.97. In ninth, Siena Mazer had a combined time of 1:09.31, and rounding out the top 10 was Alanya Morelli with a combined time of 1:09.34.