On March 3, 2019, the High Fives Foundation from Truckee, California, will team up with GoPro and Vermont North Ski Shops to share the slopes of Sugarbush Resort, Warren, with over 200 skiers and snowboarders in the eighth annual Fat Ski-A-Thon. Prior to the event, participants will reach out to their contacts to raise funds for the foundation.
"I look forward to all High Fives East Coast events, but the Fat Ski-a-Thon is my favorite," says Jon Wilson, annual event participant. "I grew up with Steve (Wallace) from the foundation, and following his spinal cord injury, I understand how funds raised can truly help individuals that suffer life-altering injuries."
High Fives provides grants to outdoor sports athletes who suffer from life-altering injuries such as spinal cord or brain injuries. The organization also teaches safety awareness and smart decision making at schools in the Mad River Valley and across the country.
Through local support in years past, the annual Fat Ski-a-Thon has become the largest fundraising event for the High Fives Foundation. The organization has set a goal of raising $200,000 at the March 3 event. This year's fundraising donations will be matched by SnoCru ($5,000), Kingsbury Companies ($1,000) and Village Grocery ($500).
"I've helped organize this fun-filled event for the last four years," said Gina Miele, events and partnerships manager for the High Fives Foundation. "I grew up skiing in Vermont, so the Fat Ski-a-Thon is particularly close to me. I'm looking forward to making this the best year yet for the event."
In conjunction with the Fat Ski-a-Thon, the High Fives Foundation will host restaurant week at some of Mad River Valley restaurants. The weeklong event is scheduled to kick off Wednesday February 27, and will run through Sunday, March 3. There are no passes, tickets or coupons needed to take part in High Fives Restaurant Week. Guests will simply visit that night's featured restaurant and enjoy an amazing meal, with 10 percent donated back to the foundation. The following restaurants will be involved in chronological order: Hyde Away, Mad River Barn, Worthy Burger Too, Localfolk Smokehouse and Rumble's Kitchen.
"I particularly love the dinner at the Mad River Barn during Restaurant Week," said Jonny Klemchuck, former High Fives board member and dedicated Fat Ski-a-Thon participant. "The Mad River Valley coming together for such an amazing cause means the world to me."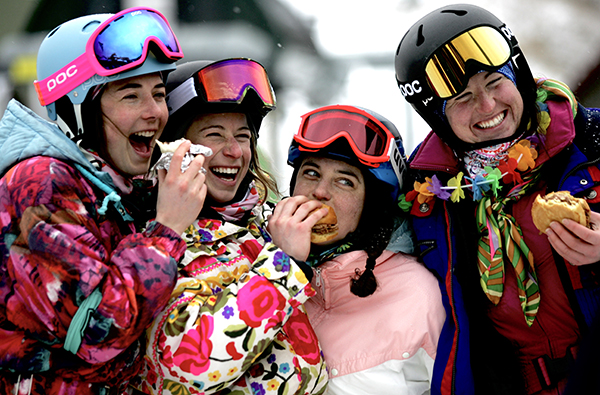 When participants gather on the morning of March 3 at Sugarbush Resort for the eighth annual Fat Ski-a-Thon, they will take laps with friends and family, while searching for prizes in a scavenger hunt. Along with additional door prizes, each participant will receive a Phunkshun Wear facemask dawning the Marker Dalbello Volkl logos showcasing an admirable 10 years of support of the High Fives Foundation.
Food and beverages from Localfolk Smokehouse, Village Grocery, Cabot Cheese and Kind Snacks will be provided throughout the day, while skiers and snowboarders enjoy music from Mad River Valley's DJ Professor.
Awards will be given out after the event at Sugarbush's Rumble's Kitchen. Participants will be recognized for Best Solo Performance, Best Duo Performance, Best Team Performance, Best Dressed and Most Outstanding Performance, while enjoying beer from Lawson's.
The eighth annual Fat Ski-a-Thon is a public event and anyone is welcome to participate or donate at www.fatski.highfivesfoundation.orgHigh